'RIP Whitney Houston' Trending on Facebook, Twitter, YouTube
Popular on YouTube: Jennifer Hudson Sings Whitney Houston Song in Tribute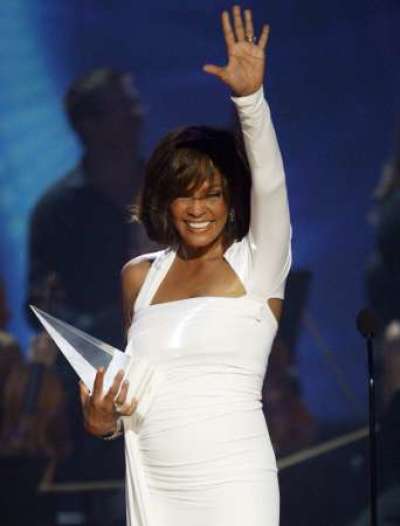 After last night's Grammy Awards, in which Jennifer Hudson sang a tribute to the late Whitney Houston and rapper L.L. Cool J said a prayer in her remembrance, fans turned to the Internet Monday morning to offer their own tribute to the popular singer, causing the phrase "RIP Whitney Houston" to trend on various social media networks. 
On YouTube, fans including members of the public, media and celebrity community, posted their favorite videos of Houston's songs.
On of the most popular video clips Monday was one uploaded by a fan onto to YouTube of Jennifer Hudson singing Whitney Houston's "I Will Always Love You" from Sunday night's Grammy ceremony, which can be watched below. 
Some in mourning, such as Christie Post, a reporter with KCBD NewsChannel 11, posted Houston's music videos on their Facebook pages. Post presented a clip of Houston singing "It's Not Right, But It's OK," writing above the video: "This is one of my favorite Whitney Houston songs. RIP. So tragic. What's your favorite song?"
Another fan in mourning, Nathaniel J., revealed on his Facebook page: "Posthumous Whitney Houston is #1 ...I will always love you on iTunes. RIP Whitney."
Houston's "I Will Always Love You" was indeed the number one selling album on Apple's iTunes store Monday morning. Other top selling tunes on iTunes included several of Houston's other works, including: "I Wanna Dance With Somebody," "Greatest Love of All," "One Moment in Time," and "I Will Always Love You," which featured on Houston and Kevin Costner's 1992 film "The Body Guard."
Natalya Rose, writing on Facebook, shared that, although Houston's sudden passing was revealed Saturday, the tragedy was just now sinking in: "Whitney Houston's passing finally hit me this morning. It was a busy weekend, now I'm just so bummed. RIP Whitney, girl. You may have left this world, but that iconic voice of yours ain't going ANYWHERE!"
Houston was pronounced dead just before 4 p.m. in her hotel room on the fourth floor of California's Beverly Hilton, according to Beverly Hills police officers. Lt. Mark Rosen told The Associated Press that there were no "obvious signs of any criminal intent."
Although there was no official report from authorities investigating Whitney's death as to what may have caused the 48-year-old singer's demise, there were reports Monday morning indicating that the New Jersey native's family members had been informed that prescription drugs and alcohol may have been at play. It was previously reported that Houston might have drowned in the bathtub. 
The singer, who rose to stardom in the 80s with several award-winning albums and singles, shared a daughter, 18-year-old Bobbi Kristina, with music performer Bobby Brown. The couple had divorced in 2007. 
Houston, who battled very publicly with drug addiction, finally announced amid her divorce from Brown, who has also battled drug addiction, that she would be seeking help. She had just entered rehab last spring, according to ABC News. Despite releasing a comeback album and going on tour, the R&B and pop singer never quite reclaimed the popularity she enjoyed in the height of her career.
SEE JENNIFER HUDSON'S TRIBUTE TO WHITNEY HOUSTON AT THE 2012 GRAMMY AWARDS
SEE VIDEO OF WHITNEY HOUSTON'S FINAL PERFORMANCE BEFORE DEATH
SEE VIDEO OF WHITNEY HOUSTON & BOBBI KRISTINA BROWN PERFORMING "MY LOVE IS YOUR LOVE"
SEE VIDEO OF LL COOL J'S PRAYER FOR WHITNEY HOUSTON ON GRAMMYS 2012