RiverDogs Head Apologizes for Mocking Tim Tebow's John 3:16 Eye Blacks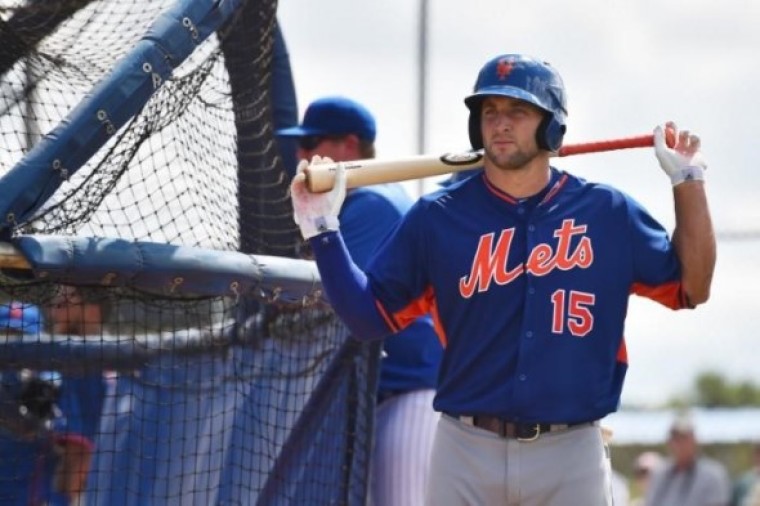 Tim Tebow was mocked for his expression of faith last weekend by the Charleston RiverDogs and now the minor league baseball team is apologizing.
Dave Echols, president and general manager for the RiverDogs, admitted that the team's mascot wearing eye blacks with the scripture John 3:16 written on them like Tebow did as a University of Florida quarterback was in poor taste. The team who played against Tebow's Columbia Fireflies last weekend also utilized their jumbotron to showcase an image of the former Heisman Trophy winner crying after his Gators lost the championship to Alabama in 2009.
Looking back at the spectacle that made its rounds online, Echols issued his apologies to those that were offended.
"While we believe that our promotions were poking fun at Mr. Tebow's celebrity status rather than his religion or baseball career, our intent was not to offend anyone, and for the fact that we did offend, we are sorry," Echols told The Post and Courier. "Of the many promotional pieces that we executed, there were a handful on Friday's game that some construed as in poor taste, and we made it a focus to remove those elements and celebrate Mr. Tebow the remainder of his time in Charleston."
Tebow's Fireflies traveled to Charleston to face off against the RiverDogs in a three game series. While the RiverDogs bested the Fireflies 2-1 and made fun of the way Tebow shared scriptures on his eye blacks in college, those famous eye blacks led to many searching the scripture online.
In 2009, 94 million people googled John 3:16 after watching Tebow wear the scripture on his eye blacks during a nationally televised playoff game. When he was playing with the Denver Broncos three years later, 90 million people googled the scripture again after seeing Tebow's stats.
A Broncos public relations associate told Tebow how much his game stats against the Pittsburgh Steelers fell in line with the scripture that he shared with the world.
"He said, 'No, I don't think you realize what happened. During the game, you threw for 316 yards; your yards per rush were 3.16; your yards per completion were 31.6; the ratings for the game were 31.6, and the time of possession was 31.6,'" Tebow said on the daytime talk show "Harry" last year. "And during the game, 90 million people had already Googled John 3:16, and it was the number one trending thing on Facebook and Twitter. A lot of people will say, 'It's coincidence.'"
Tebow went on to add, "I say, 'big God.'"