Rob Bell Asks for $43,000 on 43rd Birthday to Support Charity: Water Campaign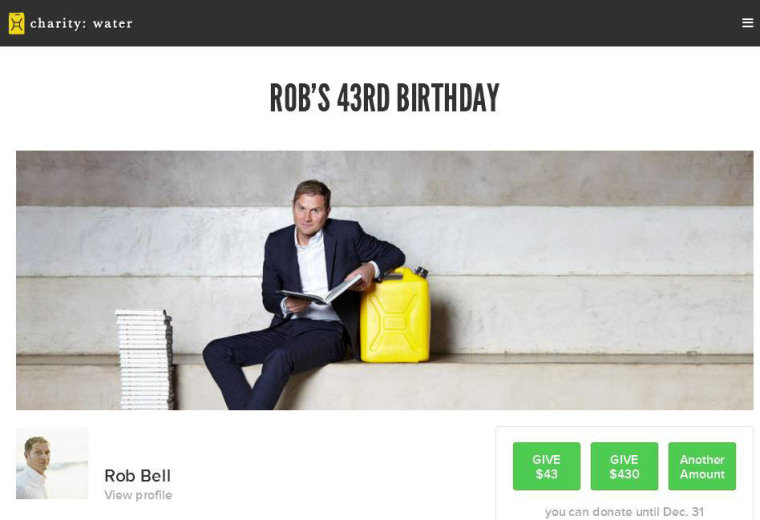 Former megachurch pastor and controversial Christian author Rob Bell is celebrating his 43rd birthday by rallying supporters to join him in topping funds raised by the likes of celebrities such as Alyssa Milano and Depeche Mode by pooling together $43,000 to help provide more than 800 million people around the world living without clean water.
"August 23rd is my birthday and this year I'll be turning 43. Now we all know that the older you get, the less of a big deal you make about your birthday. But not me, and not this year," Bell shares in a note mailed out to supporters about the crowdfunding campaign. The same message is included on Bell's my.charity.org profile page.
The What We Talk About When We Talk About God  and Love Wins author has joined hundreds of others in lending his support to charity: water, the nonprofit founded several years ago by photographer and committed Christian Scott Harrison (read CP's profile on Harrison).
"My goal is to raise $43,000 which will provide clean water for several communities. (For the record, the singer Adam Lambert raised $323,000 on his birthday, the actress Alyssa Milano raised $92,000 on hers, and Depeche Mode have currently raised $20,000 for their birthdays…I'm just sayin')," Bell states.
Bell, founder of Mars Hill Bible Church in Grandville, Mich., had raised over $16,000 with the donations of more than 830 people by press time.
Some other celebrity and high-profile figures who have undertaken birthday campaigns for charity: water include Indianapolis Colts quarterback Matt Hasselbeck, former professional skateboarder Tony Hawk, and several others.
Charity: water, founded in 2006 by Harrison, works to help raise funds for other organizations working in developing countries where clean water is needed.
The religiously-unaffiliated nonprofit uses a 100 percent model to make sure the organizations and groups they help with funds, donated by people all over the world, get every single penny intended for their clean water projects. Charity: water has helped fund more than 8,900 sustainable, community-owned water projects in 20 countries. Overall, the NYC-based nonprofit has managed to help change the lives of 3,400,000 people.
Learn about charity: water's September campaign to help bring clean water to the Dalits, or "untouchables," and others living in Orissa, India by watching the video below:
Bell released in March his latest book, What We Talk About When We Talk About God, in which the influential Christian author discusses misconceptions about God in light of a changing culture, among other things. Bell's promotion of the book involved a tour that took him across the nation as well as overseas. It was during the book tour that the married father of three revealed his support for same-sex marriage — saying, "Yes, I am for marriage. I am for fidelity. I am for love, whether it's a man and a woman, a woman and a woman, a man and a man." Bell's remarks sparked widespread debate in the Christian community in the U.S. and abroad (read Rob Bell Grows Frustrated Amid Questions on 'Sinfulness' of Homosexuality).
Bell and his family had departed Mars Hill Bible Church in 2011 and relocated to California, where the author was said to be working a television series pitch with "Lost" producer Carlton Cruse. After failing to get approval for a pilot for the project, called "Stronger," the men reportedly have turned their attention to developing a talk show, tentatively titled "Rob Bell."
Since coming off the book tour, Bell has organized seminars on the beach for "anyone whose work involves creating something and then turning it loose in the world."