Rob Bell in Documentary 'The Heretic': Religions Have Failed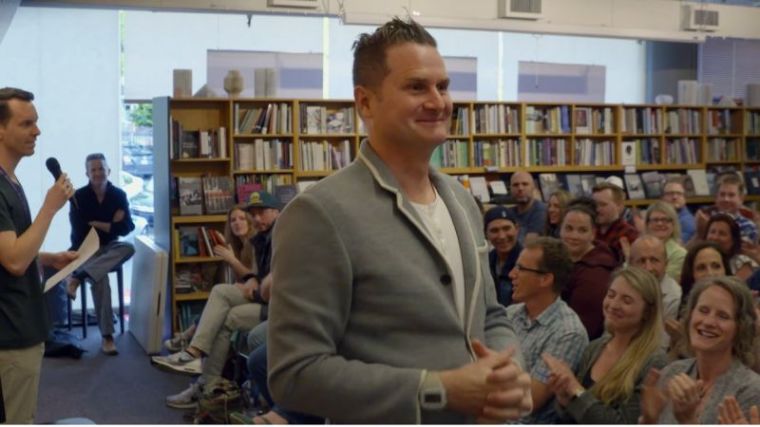 The trailer for "The Heretic," a film about former Mars Hill Bible megachurch pastor Rob Bell, who stirred major controversy in evangelical circles over his beliefs on Heaven and Hell, was recently released. In it, Bell declares that Jesus would be "mortified" at Christianity and that "the religions have failed."
Bell explained in a Facebook post last week, which also showed the trailer for the film, that he and his wife, Kristen, were approached years ago by filmmaker Andrew Morgan about making a documentary about his life and the controversy of his books, such as Love Wins.
"We have great respect for Andrew so we said yes and he began filming tours and RobCasts and events and interviews — I can't imagine just how much footage he captured. The result is a new film that he is preparing to release. It's called 'The Heretic,'" Bell announced.
The trailer features various snippets of the author criticizing modern day religion, juxtapositioned with conservative preachers, including Billy Graham Evangelistic Association CEO and President Franklin Graham, suggesting that Bell is a "heretic." 
Bell says in the trailer that following Jesus has taken him "beyond religion," and into "what it looks like to be human."
"Jesus would be absolutely mortified that someone started a religion in his name," the former pastor who is touring the nation declares.
"If you think about the religion that has arisen in Jesus' name, it is anti-what Jesus was talking about."
In other snippets, Bell says that "pretentious, legalistic and small-minded religiosity" stands against Jesus' prophetic teachings.
"The religions have failed. So we are going through a revolution because these great traditions have to be expanded," he says.
"Women's rights, LGBT, minorities, love of our Muslim neighbors — if those aren't all basics, we're done."
When Love Wins: A Book About Heaven, Hell, and the Fate of Every Person Who Ever Lived was released in 2011, it was denounced for what many called a universalist message. Bell called the dominant Christian story that only a few Christians will be called to Heaven while the rest spends forever in punishment in hell "misguided and toxic." He criticized churches that singularly preach that those who don't believe in Jesus will go to Hell and questioned the belief that salvation comes simply through confession, repentance and accepting Jesus.
Dr. Albert Mohler, Jr., president of The Southern Baptist Theological Seminary, called Bell a "master communicator" but stated that his argument "alienates love from justice and holiness."
"Bell wants to rescue God from any teaching that his wrath is poured out upon sin and sinners, certainly in any eternally conscious sense," Mohler wrote following the release of Love Wins.
"But Bell also wants God to vindicate the victims of murder, rape, child abuse, and similar evil. He seems not to recognize that he has undercut his own story, leaving God unable or unwilling to bring true justice."
Derek Tidball of the U.K.-based Evangelical Alliance said that Bell's book is "theology lite" and pointed out that it "ducks some hard issues while firing out a lot of questions."
"God's wrath, and His holiness, is touched on only very inadequately and insubstantially," Tidball argued. "He (Bell) says the sacrificial understanding of the cross belongs to a primitive cultural world we no longer inhabit, so he sidesteps a key understanding of the cross."
Graham reserved harsher words for Bell in 2011, calling him in a Fox News interview a "heretic" and a "false preacher."
Still, Bell has insisted that he is not disputing the existence of Hell.
"I believe in Hell now, I believe in Hell when you die," the former pastor told The Washington Post in 2011. "I believe God gives people the right to say no, to resist, to refuse, to reject, to cling to their sins, to cling to their version of their story.
"So the Bible, there's a whole chapter in the book about Hell, and I think we should take Hell very seriously. I think it exists, and so, there being no Hell isn't something that I believe," he clarified.
Watch the trailer for "The Heretic" below: