Rob Bell to Preach at Mars Hill Bible Church at Launch of Book Tour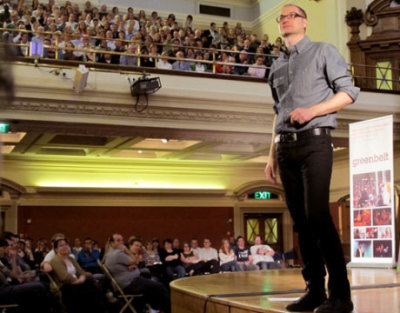 Rob Bell, who recently left the Mars Hill Bible Church congregation he founded over a decade ago due to his controversial Love Wins book, is returning to its pulpit this weekend in place of Teaching Pastor Kent Dobson to preach on the Lenten theme of sloth.
Bell's name is listed as the "teacher" for the March 10 service on Mars Hill Bible Church's Sunday schedule, with Troy Hatfield listed as the worship leader. Bell, who will be visiting Michigan as part of a book tour for his new title, What We Talk About When We Talk About God, is expected to preach at the 9 a.m. and 11 a.m. services. The subject of his sermon, sloth, is number four in a seven-part Lenten series titled "The Seven Deadly Sins."
Someone working the front desk at the Grandville church confirmed in a phone call with The Christian Post Thursday that Bell would indeed be a guest speaker this coming Sunday. The person was unable to say what kind of turnout is expected for the services and whether Bell would discuss his new book.
Dobson, who has been preaching "The Seven Deadly Sins" since last month, returned in September 2012 to Mars Hill Bible Church to replace Bell as teaching pastor. Shane Hipps had been serving as interim pastor before the congregation ultimately invited Dobson to return to the church where he had previously served as worship director.
Bell, who is pastor emeritus of Mars Hill Bible Church, revealed late last year how his 2011 New York Times bestseller, Love Wins: A Book About Heaven, Hell, and the Fate of Every Person Who Ever Lived, resulted in 3,000 people leaving the church. The controversial book questioned orthodox Christian teachings on a literal, eternal hell and that only those who believe in Jesus Christ go to heaven.
"The book put pressure on the people around Bell, who found themselves having to defend statements they might never have heard, let alone approved," The New Yorker wrote in a 2012 feature on Bell. "Congregants reported that friends and family members were asking why they were allowing themselves to be led by a false teacher."
Bell's wife, Kristen, told the publication that she sometimes stayed home from church due to the intense criticism her husband was getting over Love Wins.
"There was a cost. And part of the cost was, we couldn't keep doing what we were doing at Mars Hill," Mrs. Bell said. The Bells and their three children eventually left Mars Hill Bible Church and relocated to California, where the former Michigan pastor holds workshops and is said to be working on a television program, among other things.
After his Sunday morning sermons at Mars Hill Bible Church, Bell will hold a signing event at a local bookstore. That event is the first one among more than a dozen that will take the Christian author to several states as well as the United Kingdom in promotion of the new book, published by HarperOne. There will also be a live online event on March 12, the official release date for What We Talk About When We Talk about God.
In a YouTube trailer for What We Talk about When We Talk About God, Bell claims that many Christian ideas about God are outdated and irrelevant to many people's lives. His new book will discuss how he believes both culture and the Church can "reconnect with the God who is pulling us forward into a better future," according to the publisher.
Popular evangelical Christian blogger Brandan Robertson, who reviews religious titles for several publishers, describes What We Talk About When We Talk About God as "impressive" and "inspiring."
"It's also important to realize that this book is not a theology textbook – Bell's point in writing is rarely to create a theological treatise and almost always to stimulate thought, discussion, contemplation, and action from within the Christian community. And Bell is a master at such a task," Roberston writes.
"But from a theological perspective as an evangelical, I want to restate that I found nothing within the pages of this book that could or should be considered heretical. This book will offend those who are looking to be offended, inspire those who seek to be inspired, and will spark a new conversation about what we really talk about when we talk about God. And for that, I say 'Amen!'"