Robert Griffin III Says He's Leaning on the Bible Amid Media Scrutiny of Social Media Post on Redskins Owner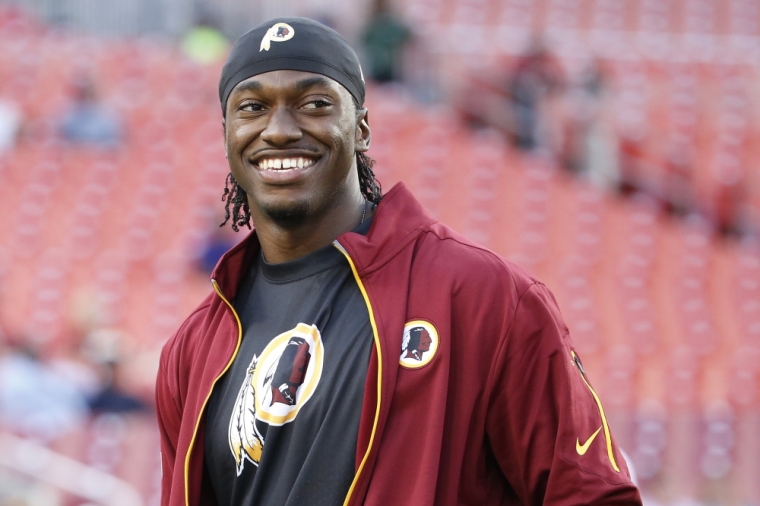 With the official start of the NFL season quickly approaching on Sept. 10, Washington Redskins quarterback Robert Griffin III is already being criticized, but says he's leaning on the Bible amid public scrutiny.
"Though we all face obstacles in life, I encourage you to lean on God throughout & remember his promise Jeremiah 29:11," Griffin, 25, tweeted on Wednesday.
Griffin's tweet came one day after he made headlines for "liking" an Instagram post created by a disgruntled Redskins fan who chose to defend RGIII while bashing Redskins owner Dan Snyder and his organization's front office. After SB Nation caught wind of the quarterback liking the post, numerous media outlets such as NBC, Fox and CBS wrote headlines centered around Griffin liking a post that called for the impeachment of Snyder.
"As a Skins Fan I'm disappointed in the way my team used this man's talent and potential to do nothing but raise hopes and make a profit. I don't regret the skins grabbing RG, I do regret having a sorry [expletive] team owner and sorry [expletive] front office who couldn't put a winning coaching staff together who could actually compete for a super bowl," the message reads.
"Griffin does not deserve the blame or bad rap, the man has gone above and beyond since day one to the point of injury, while at the same time being a role model of a person. The Redskins let him fall and did not help him get up... #HTTR #Loyalty #ImpeachDanSnyder #Redskins #redskinsnation #DC #NFL @rgiii @espn @nfl."
After the media focused on his alleged liking the message, Griffin took to his own Instagram to defend himself.
"I just wanted to set the record straight on this one. I did not 'like' that IG post ridiculing our team. I have not been social media active consistently for awhile now and am ultra-focused on working to get back on the field and trying to help this team," Griffin wrote. "One of our interns who helps with Instagram liked the post. As soon as I was made aware of it, it was immediately unliked. That is not how I feel and I appreciate your understanding.#HTTR."
Last year, Griffin expressed his frustrations with being scrutinized for his social media comments after a tough season filled with criticism of his play on the field. After his team came in last in their division, the Christian quarterback decided to eliminate social media as a distraction.
"It just felt like, for me, anything I was saying, whether it was positive or negative, whether it was a positive retweet or anything, was getting twisted and turned against me and against this team," Griffin previously said, according to ESPN.com. "I feel I can be free up here and talk to you guys, but sometimes things get twisted and turned and it creates a distraction for the team. I didn't want that to happen."
The quarterback noted that he received criticism even for speaking about charity work.
"Sometimes you don't understand certain things and they don't go the way you want them to go, but if I get criticized for retweeting about going to a charity event for a foundation, I mean what else can you do?" Griffin questioned in the ESPN report. "So I decided to shut it down and not focus on it."
These days, it seems RGIII is focusing more on his faith and football than the naysayers. On Aug. 28 he tweeted a scripture about trusting God.
"Trusting in God even when I don't understand why certain things happen. James 1:2-3 (NLT)," Griffin tweeted.