Robert Jeffress Calls Ronald Reagan a 'Womanizer' to Defend Trump Over Playboy Model Revelations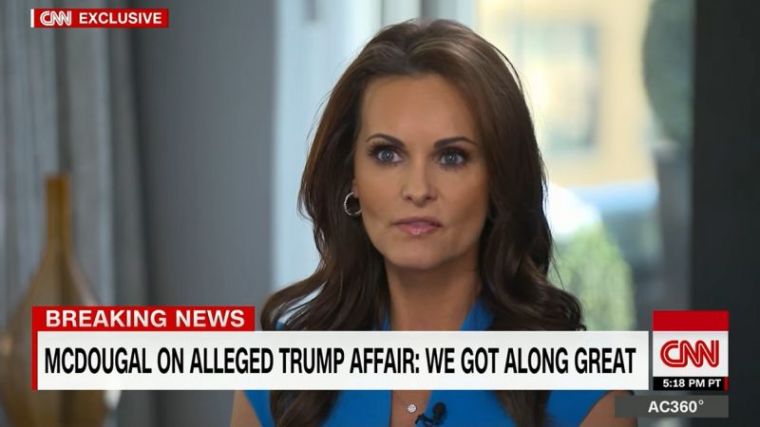 The son of former U.S. president Ronald Reagan has hit back against Robert Jeffress, pastor of the First Baptist Church in Dallas, Texas, for calling his father a "known womanizer" while defending current president Donald Trump over new revelations about an alleged affair with a playboy model.
"All I can say is go F yourself," Michael Reagan, who is the president of The Reagan Legacy Foundation," wrote Saturday on Twitter, in response to an earlier Jeffress interview with Fox News.
"Dr. Jeffress. How dare you compare my father to Trump," he added.
In the Fox News interview, Jeffress was asked to comment about news reports that Trump's longtime lawyer, Michael D. Cohen, made secret tapes of Trump discussing payments to former playboy model Karen McDougal.
The payments were apparently made in order to keep McDougal silent over an alleged affair with Trump, The Washington Post reported Friday.
Jeffress insisted, however, that evangelicals are not wrong to continue supporting Trump despite such stories.
"Nobody has sold his soul to support President Trump," the megachurch pastor said Friday.
"You know, this is not an unusual thing — we've been here before. Back in 1980, evangelicals chose to support a twice-married Hollywood actor who was a known womanizer in Hollywood. His name was Ronald Reagan. They chose to support him over Jimmy Carter, a born-again Baptist Sunday school teacher who had been married faithfully to one woman," he added.
"The reason we supported President Reagan, was not because we supported womanizing or divorce, we supported his policies. And that's true here," Jeffress continued.
As he has said in the past, the First Baptist Church leader clarified that Christians who supported Trump "weren't under any illusion that we were voting for an altar boy."
"We knew about his past, and none of us has a perfect past," he added.
The former model has talked in past interviews about what she says was a yearlong affair with Trump shortly after Melania, Trump's current wife and now first lady, gave birth to their son, Baron, in 2006.
The latest revelations of a secret payment were made after the FBI raided Cohen's office earlier this year, as part of an investigation looking into whether federal campaign finance laws were violated when Cohen allegedly paid off several women on Trump's behalf, some alleging sexual affairs with him, in the run up to the 2016 election. 
Michael Avenatti, the lawyer representing adult-film actress Stormy Daniels, who also claims she had an affair with Trump and received hush money before he was president, meanwhile told ABC News on "This Week" Sunday that he had a "fruitful" conversation with Cohen. They've continued to "dialogue" and, Avenatti claims, Cohen will "assist us in our search for the truth and what happened here." 
Avenatti also claimed there are more tapes seized by the FBI and he knows "the substance" of what Trump and Cohen discussed.
"If I'm wrong" about the existence of more tapes, Avenatti asked, "then why don't we have Mr. Trump or his attorneys come forward today, right now, and claim there are no other tapes?"
The pastor said that America can't look to Washington D.C. for revival, which he said is the job of the Church.
"Trump is fulfilling his God-given responsibility in securing the border and keeping us safe. He is the most religious-liberty oriented president we have ever had. And that's why evangelicals continue to support this president. We believe that sin is a sin, but we also believe that all of us can find the forgiveness we need in faith in Jesus Christ."
Some conservatives and Christians criticized Jeffress for suggesting Reagan cheated on his spouses, noting he was never alleged to have committed such acts.
"I never heard a whiff of scandal around The Reagans," columnist Maggie Gallagher wrote. 
Blogger and media personality Erick Erickson added, "Not very Christian to denigrate others to defend an unrepentant sinner." 
The Reagan Battalion, a pro-Reagan conservative Twitter feed mostly opposed to Trump, said, "What? What a dope! Throwing Reagan under the bus to defend Trump."  
Other conservatives, including Tony Perkins, president of Family Research Council, have in the past argued that Trump is a different man from the way he acted in the past.
"If this were happening today, his evangelical support would not exist. Adultery was wrong then, and it's wrong now. If the rumors turn out to be true, then that behavior is unconscionable," Perkins wrote in an op-ed in January, commenting on the accusations of affairs surrounding Trump.
"Americans can only hold President Donald Trump accountable for what he does in office. We can't do anything about the past. Americans may not like it, find it distasteful, and wish it hadn't happened -- but it did. Like any of us, he needs to own his failings and take responsibility for his actions. And in some of these cases, I believe he did."