Robert Jeffress: Evangelicals Risk Losing Supreme Court If They Refuse to Vote for Trump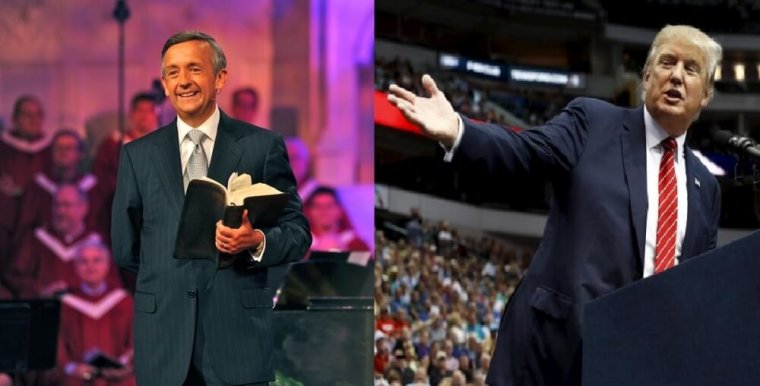 Pastor Robert Jeffress of the First Baptist Church in Dallas, has said that while Republican presidential nominee Donald Trump is doing a "great job" of attracting evangelical voters, he must hammer on the importance of appointing conservative justices to the Supreme Court.
"The good news for Trump is that according to the latest Pew poll, evangelicals prefer Trump by three-to-one over Hillary Clinton," Jeffress said in an interview with Fox News on Sunday, referring to Pew statistics from July detailing evangelical support for Trump.
"So the danger is not that evangelicals are going to vote for Clinton, the danger is that they won't turn out and vote at all, like they did in 2012 by the millions," he said.
Jeffress added that Trump can do a few things to ensure that Evangelicals turn out to vote, and said that the most important thing, in his view, is to emphasize the point of appointing conservative justices to the Supreme Court.
"Many of the issues we evangelicals care about — the sanctity of life, religious liberty — are going to be decided by the Supreme Court. The next president will appoint anywhere between two to four justices," the megachurch pastor predicted.
He explained that overall Trump is doing a "great job of reaching out to evangelicals," and accused Mitt Romney and John McCain, the two previous GOP presidential nominees who both lost to President Obama, of having taken evangelicals for granted at the time.
Jeffress has been critical of Christians who have refused to back Trump, calling them "weak," "namby-pamby" and too "proud" because they "can't get over the fact that their candidate didn't win" in the Republican primary.
The Texas pastor said in July that while Trump is "not exactly like us, at least he likes us."
In a separate interview with The Christian Post in March, Jeffress said that Republicans who have vowed never to support Trump are "fools."
"It is absolutely foolish to do anything that would allow Hillary Clinton to become the next president of the United States … at least Donald Trump has voiced a belief in a pro-life movement, he has at least talked about religious liberty as he did last Friday, you don't hear either things coming from the lips of Hillary Clinton," the pastor told CP at the time.
"I believe any Christian who would sit at home and not vote for the Republican nominee … that person is being motivated by pride rather than principle and I think it would be a shame for people to allow Hillary Clinton four or eight years in the White House," he added.
Other evangelicals, however, such as Michael Farris, chancellor of Patrick Henry College and chairman of the Home School Legal Defense Association, said in an op-ed in July that the estimated 1,000 evangelical leaders who met with Trump in New York to listen to the GOP nominee marks the "end of the Christian right."
"Today, a candidate whose worldview is greed and whose god is his appetites (Philippians 3) is being tacitly endorsed by this throng," Farris wrote at the time.
"They are saying we are Republicans no matter what the candidate believes and no matter how vile and unrepentant his character," he added.
"They are not a phalanx of God's prophets confronting a wicked leader, this is a parade of elephants."