Robert Jeffress: Singing 'Make America Great Again' No Different Than Singing National Anthem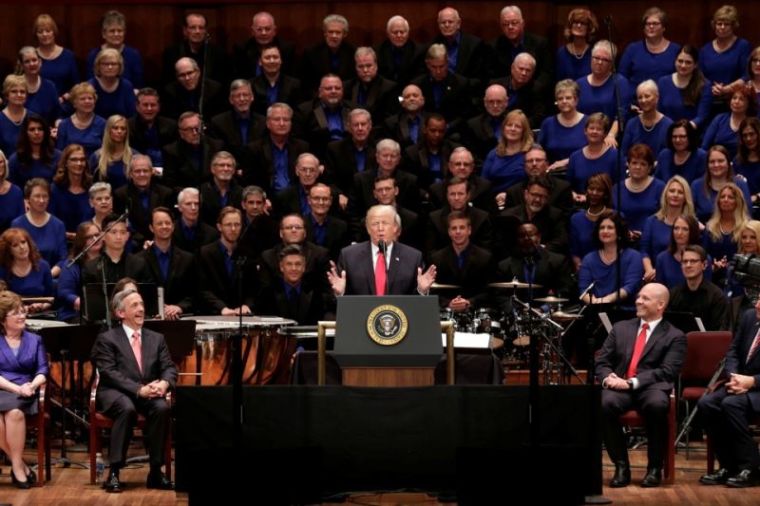 Megachurch Pastor Robert Jeffress has responded to criticism over First Baptist Dallas choir's performance of the "Make America Great Again" song at the Kennedy Center in Washington last Saturday, telling The Christian Post that singing the song is no less patriotic than singing the national anthem.
"There is no difference in singing 'Make America Great Again' than there is in singing any other patriotic song, like the 'Star Spangled Banner,'" Jeffress, who serves on President Donald Trump's evangelical advisory board, said during a Wednesday afternoon phone interview with CP. "This song was sung at a patriotic rally at a concert hall on Saturday night, not sung in a church as a worship song on Sunday morning."
As has been widely reported, the First Baptist Dallas choir and orchestra premiered the song "Make America Great Again" at last Saturday's "Celebrate Freedom Concert" hosted by Jeffress at the Kennedy Center with special guest President Donald Trump in attendance. The song was written by the church's former music minister Gary Moore.
Considering the title and lyrics of the song echo Trump's 2016 election slogan, critics of the president lit up social media to voice their disapproval and did so again when Trump posted a #HappyIndependenceDay tweet Tuesday morning that included a video to the First Baptist Dallas choir's performance of "Make America Great Again."
An op-ed published by The Resurgent, a blog run by prominent conservative NeverTrump activist Erick Erickson, accused the song, which has now been licensed through Christian Copyright Licensing International for churches nationwide to use, of "crossing the line into idolatry."
"The Church has no business putting its faith in and singing songs in honor of worldly leaders," J. Cal Davenport wrote for The Resurgent.
Patheos blogger Jonathan Aigner, who is a director of Music for a PCUSA congregation, argued that the sentiment behind the song has been "adopted" by a good chunk of the evangelical church and accused evangelicals who've supported Trump of making the sentiment "part of their Gospel."
"It's not only their candidate's campaign slogan, it's now a part of their gospel," Aigner wrote. "It's their mantra, their creed, their prayer, and they shout it out with nationalistic fervor. Pledging allegiance to God and to America in the same breath, melding together the Kingdom of God and self, they pray a blasphemous prayer to a red, white, and blue Jesus."
Jeffress, who was one of the first evangelical leaders to support Trump at his campaign events in 2016, told CP that evangelicals who have been critical of the song and the president are nothing more than "evangelical gnats" that are so "consumed with hate toward President Trump that they have lost all sense of objectivity."
"They are absolutely nothing but evangelical gnats who are looking for any excuse to nibble at the president. What we do have in President Trump is the president who has done the most to protect religious liberty of any president in America," Jeffress contended. "If you take these critics' argument to their logical end, then Christians need to quit saying the Pledge of Allegiance."
Jeffress added, "There is nothing wrong in Christians desiring God's best for the country we love so much. That is what Saturday night was all about."
He further asserted that people have become so consumed with the hysteria surrounding the song that they have "lost sight" of the fact that the last half of the Saturday night's program was a "Gospel-oriented presentation."
Jeffress said that he explained the plan of salvation and gave the audience a chance to accept Christ as their savior.
"No one is worshiping Donald Trump. What we are doing is showing respect for our president and praying God's blessings on him as he leads our nation," Jeffress said. "That is biblical and Christian to do."
Jeffress also contended that NeverTrump critics are still upset that they were "wrong" about the 2016 election.
"These evangelical NeverTrumpers are incensed because President Trump's election demonstrated how irrelevant they are to Christians. Christians did not listen to these NeverTrumpers, in spite of all their blogs and all of their tweets about President Trump," Jeffress said. "If anybody listened objectively to what President Trump said Saturday night, it was the most god-honoring, faith-affirming speech I have ever heard any president give at any time in history.
"People have to understand what the president said is politically incorrect and the liberals have blasted him for suggesting that there is one God that we worship and not paying homage to Islam," Jeffress continued. "We as evangelical Christians ought to be celebrating what the president said. Again, these evangelical gnats cannot get over the fact that they called it wrong in the election and that their opinions were irrelevant to the evangelical body of believers as a whole."