Robert Jeffress: Trump 'Most Consequential' Pres. Since Lincoln, #NeverTrump Will 'Shut Up Forever'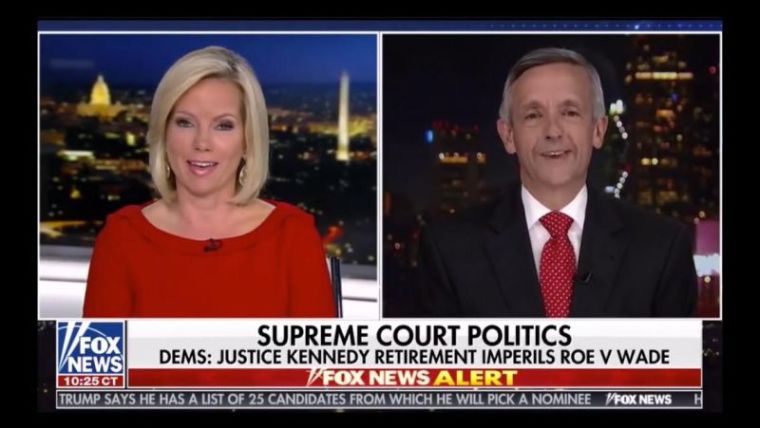 Pastor Robert Jeffress believes President Donald Trump will be the most "consequential" president since Abraham Lincoln in light of his opportunity to replace Anthony Kennedy with a solidly conservative justice on the Supreme Court.
In an interview with Fox News Channel's Shannon Bream Wednesday night, the lead pastor of First Baptist Church of Dallas, who also sits on the president's evangelical advisory board, said that he believes a conservative court will eventually either reverse Roe v. Wade, the 1973 landmark case that legalized abortion nationwide, or significantly reduce its importance.
"In 1857, the Dred Scott decision said that African-Americans were nothing but property to be bought and sold. Thankfully, that was overturned," Jeffress said.
"Roe v. Wade is really the Dred Scott decision of the 20th century," he continued, "It said children in the womb were not people, that they're just biological blobs with no rights. I think you're going to see that overturned."
A liberal court would create "imaginary" rights for some while scrapping real liberties for others, he said.
Bream noted that with the slim Republican majority in the Senate, including a few Republicans who support abortion rights, it may be a challenge to get a nominee through the confirmation process who might overturn Roe, but Jeffress said he was not worried.
"It would be tough for anyone except for Donald J. Trump. He has the guts to push forward in this," the Dallas pastor said, adding that he spoke with the president recently and that Trump is aware that the most significant reason that huge numbers of evangelicals voted for him in the 2016 election was because of his commitment to a conservative judiciary.
Evangelicals continue to back the president by a large margin because he is fulfilling promises, not just at the Supreme Court but in the other federal courts, he went on to say.
"I have spent this year saying that I believe that President Trump is the most consequential president since Ronald Reagan. But I'm changing that tonight," Jeffress said.
"I believe he will be seen as the most consequential president since Abraham Lincoln."
The overhaul of the court system will change the course of the nation, solidify his legacy as a conservative, and seal his reelection in 2020, Jeffress continued, and the Kennedy retirement means that conservatives and evangelicals will turn out in great numbers for the midterm elections in November.
When asked about the hypocrisy some say evangelicals are exhibiting by supporting a president who calls people names and is known for vulgar antics, Jeffress brushed it off.
"The reason that we elected this president is because of his policies, not necessarily because of personal piety. And is anybody going to make the argument that Hillary Clinton was a more moral character than Donald Trump? Of course not. That is ludicrous," he replied.
"We support this president's conservative positions and what is happening right now vindicates our decision to choose Donald Trump as president. And I believe the #neverTrump movement, the little sliver of it still in evangelicalism, is going to be shut up forever."