Robert Jeffress Urged to Apologize for Saying Catholic Church 'Genius of Satan'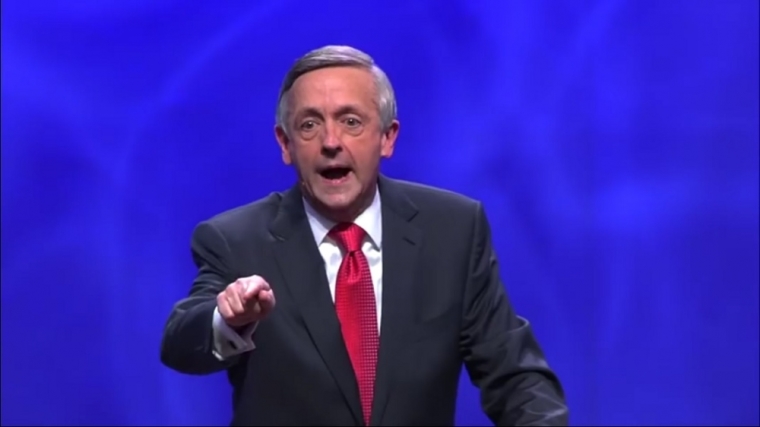 Catholic League President Bill Donohue is calling on Pastor Robert Jeffress of First Baptist Church in Dallas to apologize this week for suggesting the Catholic Church doesn't come from God, but from a cult-like pagan religion inspired by Satan.
Donohue made the comments during a radio interview on "The Alan Colmes Show" earlier this week, when he was invited to speak about the controversy surrounding the Pope Francis–Donald Trump debate over the U.S. Mexico border and illegal immigration.
Donohue also spoke out against conservative commentator Ann Coulter, a Trump supporter whom he called a "mean-spirited, rampant anti-Catholic bigot." But then took aim at Jeffress, who in the past has suggested that the Catholic Church is a "genius of Satan."
Jeffress was critical of the pope following media reports that he questioned Trump's Christian faith over his proposal to stop illegal immigration by building a wall along the Mexican border. The Southern Baptist minister suggested that the Vatican leader should apologize to the Republican presidential candidate.
Donohue pointed out, however, that there has been a great deal of media misrepresentation of the Francis-Trump exchange, which he argued that Jeffress is being fooled by.
"A person who thinks only about building walls, wherever they may be, and not building bridges, is not Christian. This is not the Gospel," the pope told journalists, though Donohue noted that Francis never said he knows precisely what Trump's position is.
When Colmes mentioned that Jeffress will also be a guest on the show later in the week, Donohue requested that the host ask the megachurch pastor why he refuses to apologize for controversial comments he made against the Catholic Church back in 2011.
In a statement posted on the Catholic League website last week, Donohue says to Jeffress: "It is you who needs to ask for forgiveness for calling the Catholic Church the voice of Satan."
Donohue has criticized Jeffress on a number of occasions, and in October 2011 called him a "poster boy for hatred."
The Baptist minister had previously said: "Much of what you see in the Catholic Church today doesn't come from God's Word, it comes from that cult-like, pagan religion. Now you say, 'pastor how can you say such a thing? That is such an indictment of the Catholic Church. After all the Catholic Church talks about God and the Bible and Jesus and the Blood of Christ and Salvation."
The Catholic League president said that despite the anti-Catholic leanings of some of Trump's supporters, he does not believe he is anti-Catholic. Donohue added that he is not finding anti-Catholic sentiments in the other Republican or Democratic presidential candidates either.
Jeffress has said that he believes Trump could be an effective U.S. president, and told The Christian Post in an interview in January that Christians don't have to sell their soul to vote for him.
"There are many Christians who would say that while Donald Trump may not be the best candidate to lead Bible studies in the Oval Office, he very well may be the candidate that has the best chance of beating Hillary Clinton or Bernie Sanders in November," said Jeffress, who added that he has not made an endorsement for president.