Robertsons of 'Duck Dynasty' Deny Any Lasting Bad Blood Between A&E and Family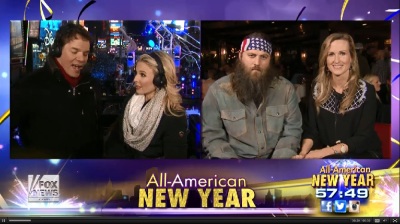 Willie and Korie Robertson appeared on Fox News' New Year's Eve special on Tuesday and denied that there was any lasting tension between their family and A&E following the family patriarch's reinstatement to the network's hit "Duck Dynasty" series.
"We're just glad to get back to work, A &E and us are fine," Willie told anchors Elisabeth Hasselbeck and Bill Hemmer. "The Robertsons, we are looking forward to getting back to making some funny shows and it's a new year, so we are ready to break in a new year and start it all over again."
Following "controversial" comments that he made about homosexuality and race in a January 2014 GQ story, Phil Robertson was suspended indefinitely on Dec. 18. Following the outrage of thousands of fans who took their anger to social media and online petitions and "discussions with the Robertson family, as well as consulting with numerous advocacy groups," A&E reinstated him Dec. 27.
Korie backed her husband's sentiments.
"I'm just glad the family's all together," added Korie. "The fact that we get the ability to do this—we're all happy, happy, happy."
The couple also shared that they had not set any New Year's resolutions, after Hasselbeck asked who would be the first to fail at keeping them.
"You have to make one to break one," Korie joked.
The hosts were also curious about Phil Robertson's potential holiday plans but Willie said that because duck hunting season fell in the middle of New Year's, his father was likely already asleep.
"He's not a big celebrator of the holidays. New Year's Eve is just kind of another night for him," he said.
The Robertsons were vague on giving away details about the new season, which premieres on Jan. 5, though Korie revealed that viewers would meet "a few people in episodes coming up."
"I hired a good looking assistant for me and that assistant will be revealed on the show this year," added her husband.
"When I think it is going to be a lot of the same crazy fun you've been seeing ... We just try to stick together and have fun. We laugh at ourselves and forgive each other and at the end of the day we sit down together and praise God for our blessings and hopefully we can continue to spread that message," said Korie.