Roma Downey credits God for series of 'coincidences' that led to Easter movie 'On a Wing and a Prayer'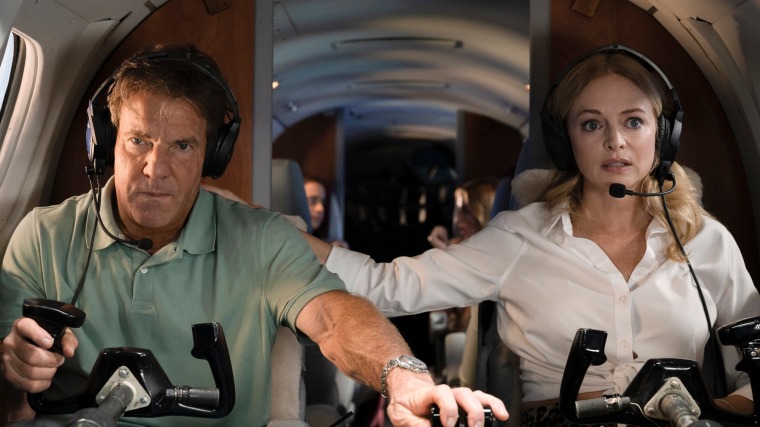 Roma Downey reflected on how a series of "coincidences" that would have only happened if God allowed them enabled her to bring the film "On a Wing and a Prayer" starring Dennis Quaid to viewers. 
The MGM/LightWorkers' faith-based family drama is based on the true story of a small-town family that survived a harrowing flight after the pilot died in midair. Passenger Doug White (Quaid) is forced to land the plane safely to save his family on board. The film also stars actors Heather Graham and Jesse Metcalfe.
"It's been ours for a long time. Now we get to share it and have it be seen and have it be felt. I think it's very much a movie to feel in your heart," Downey told The Christian Post. The film will stream on Amazon Prime starting on April 7.
"As Christians, it speaks to the power of prayer and the mercy of God," she said. 
Written by Brian Egeston ("Perfect Harmony"), the true story was discovered after he started taking flying lessons.
"The instructor had told him that a useful thing to do is to listen to some of the audio on YouTube and other places of pilots talking to air traffic control to learn background about flying, Downey explained. "One of the audio tapes that he stumbled across was this real-life tape of Doug White in the middle of this emergency speaking with air traffic control. He couldn't believe what he was listening to."
After a Google search about what happened during that horrifying flight, the screenwriter realized this all happened on Easter and got in touch with the White family to turn their story into a film. 
"It happened on Easter Sunday, and this family experienced this redemption. Their prayers were answered, and miraculously they brought this plane to land but not without a lot of drama and a lot of nervousness, a lot of fear," Downey said. 
Produced by Downey ("Son of God") and directed by Sean McNamara ("Soul Surfer"), the famous "Touched by An Angel" actress said the film came about following a series of divine coincidences. Downey frequently receives scripts to read, but she usually has her assistants filter through them before they make their way into her hands. 
"For whatever reason, for this particular script, I picked it up and read it myself," Downey told CP. "I was hooked from the get-go. On 'Touched by An Angel' we used to say all the time, 'There were no coincidences. It was God's way of remaining anonymous.'"
Shortly after reading the script, she had a meeting with Dennis Quaid who "coincidentally" had come in to meet with her about a podcast that he was interested in making.
"I don't really know anything about podcasts, except occasionally, I listen to them in the car. But I was happy to take the meeting. I've always been a fan of his work. I've only ever heard wonderful things from people who've had the pleasure of working with him. So I happily took the meeting, Downey recalled. 
"During the meeting, he shared with me that one of his hobbies was that he flew planes. So, of course, the minute he said that, the light bulb went off in my head, and I said, 'I have this amazing script. Would you take a look at it?' I'm sure everybody and their grandmother has an amazing script for Dennis Quaid to take a look at. I could feel his hesitation even to take it, and I said, 'Please trust me, you're going to love this story. And it's a true story. Call me when you read it."
Quaid fell in love with the story and Downey made a deal with him that if she was able to get the money for the film, he would star in it. 
"Then the last meeting I had before COVID kicked in and the whole world shut down was at MGM with Sean McNamara. Sean had coincidentally worked with Dennis Quaid on a movie called 'Soul Surfer.' I knew that Sean McNamara knew a thing or two about telling stories with heart, set against dangerous backdrops, and he'd worked with Dennis Quaid. And so, we struck up a deal. If we were to raise the money, Sean McNamara would agree to direct." 
j