Roma Downey Says 'Gratitude Is Key to Happiness'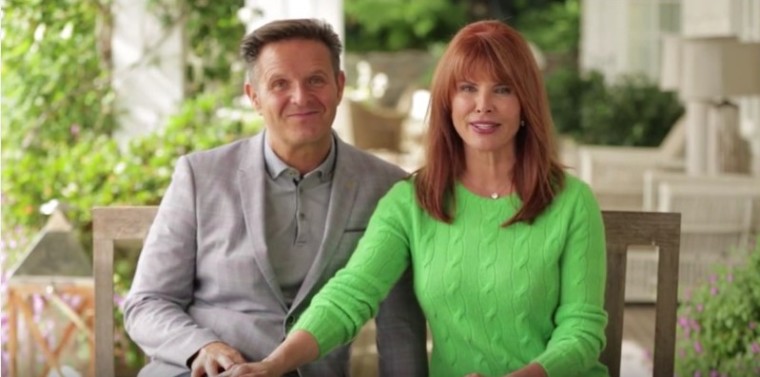 With a great deal of success on her resume, Roma Downey is revealing why she doesn't compare herself to others in a stripped down conversation for "Breaking Bread With Brooke Burke."
"If you live your life comparing yourself to other people, there's always going to be somebody that has something that you think you would be happier with if you had it," Downey says on the holiday episode on the Feeln it streaming service. "If you compare yourself to somebody that you think you have more than them you risk being prideful. I think if you live your life just being grateful for what you've got, gratitude is the key to happiness."
Television personality Brooke ("Dancing With The Stars" ) and her actor husband, David Charvet ("Melrose Place"), invited their good friends Downey ("Touched by an Angel") and her husband, Mark Burnett ( "The Voice"), over for a dinner that was filmed by TV cameras. The couples shared laughter over their roasted chicken and homemade bread while Burnett even shared a special prayer before they ate.
"Heavenly Father, we are so grateful for our friendship, for the food, for our children and their health. We're eternally grateful and recognize how lucky we are in our lives. In Your name, amen," Burnett prayed.
On each episode of the Feeln show "Breaking Bread With Brooke Burke," the television personality swaps stories, recipes and memories with celebrities over a meal they prepare together. Feeln is an online streaming service created by Academy Award-winning film producer Rob Fried to showcase television shows and original films from the Hallmark network.
In the 22 minute "Holiday Special" of "Breaking Bread With Brooke Burke" Downey and Burnett get a bit more personal with their close friends and give fans a deeper glimpse into their personal lives. Burke tells her audience that she is showcasing the way that food connects people while Downey tells the host, "to sit together and to break bread, it's special."
Earlier this year, Downey and Burnett were named on Newsmax's list of top 100 Christian leaders in America. Their joint work on film and television projects like "A.D. The Bible Continues," CBS' "The Dovekeepers" and the film "Little Boy" earned them an honor on the annual list of Christian leaders.
According to Newsmax, Burnett and Downey have made "a real impact on modern lives in 2015" and "resurrected the Christian entertainment industry" with the "Bible" series and its NBC spinoff "A.D. The Bible Continues."
Last month, the couple created a video to personally thank The Christian Post's readers for their support for the projects.
"'A.D.' captures the remarkable story of the Apostles after the crucifixion, an event that forever changed the course of human history. 'A.D.' is about extraordinary faith in the face of unimaginable adversity and we are thrilled to experience the journey with you once again," Downey said in a video created for CP.
The series which is currently available for DVD and Blu-Ray sale covers major events that occurred throughout the Book of Acts, and Downey is praying that the saga can change people's lives.
"We pray that this show will serve as a catalyst for furthering the Gospel and encourage you to be bold in your faith," she told CP. "Thank you so much and God bless you."