Roy Moore's Brother Compares Teen Sexual Misconduct Allegations to Persecution of Jesus Christ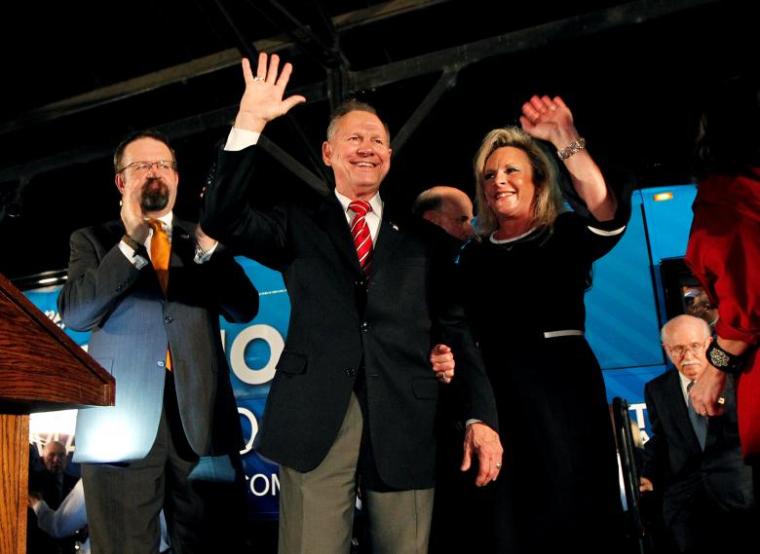 Jerry Moore, the brother of Republican Senate candidate Roy Moore, has claimed that the allegations of sexual misconduct against the Alabama politician could be compared to the persecution suffered by Jesus Christ.
CNN correspondent Martin Savidge shared on Friday his phone conversation with Jerry Moore following the allegations published in a Washington Post report last week accusing his brother of dating teen girls when he was in his 30s, including attempting a sexual encounter with a 14-year-old.
Jerry Moore insisted that the accusations are not true, and revealed that the brothers are worried about what impact the controversy is going to have on their 91-year-old mother.
Jerry Moore further accused the Democratic Party of being behind the allegations, and said that the women coming forward are going to "have to answer to God for these false allegations."
Savidge noted that Jerry Moore believes his brother "is being persecuted, in his own words, like Jesus Christ was."
Roy Moore has meanwhile warned that he is considering filing a lawsuit against The Washington Post for the report that exposed the alleged sexual misconduct, describing the story as "a desperate attempt to stop my political campaign."
He also characterized the accusations against him as an attempt to "shut up Christian conservatives."
"The Obama-Clinton Machine's liberal media lapdogs just launched the most vicious and nasty round of attacks against me I've EVER faced! We are are in the midst of a spiritual battle with those who want to silence our message," he said in a statement last week.
The Senate Republican nominee further said on Sean Hannity's radio show that he "doesn't remember" whether he had dated 17- or 18-year-old girls in the late 1970s and early 1980s.
"I don't know Ms. Corfman from anybody. The allegations of sexual misconduct with her are completely false," he added, referring to Leigh Corfman, who alleged she was 14 when Moore initiated a sexual encounter.
He later added: "This never happened and I don't even like hearing it because it never happened and they're doing this a month away, four weeks away, after 40 years in public service."
Over 30 Republican senators have called on Moore to drop out of the race if the allegations against him are true, however, along with Senate Majority Leader Mitch McConnell, R-Ky.
Social conservatives, such as Tony Perkins, president of the Family Research Council, also spoke out and stated:
"The allegations reported by the media against Roy Moore are beyond disturbing and, if true, would disqualify him or anyone else engaged in such behavior from holding a position of public trust."
Deadline reported on Sunday that at least six companies have decided to either pull their ads or distance themselves from "Hannity" because his coverage of the allegations against Roy Moore.
Several notable evangelicals slammed Alabama State Auditor Jim Ziegler's attempts to use the story of Joseph and Mary in the Bible as a way to explain adults and teenagers in romantic relationships.
"Take the Bible. Zachariah and Elizabeth for instance. Zachariah was extremely old to marry Elizabeth and they became the parents of John the Baptist," Ziegler told the Washington Examiner.
"Also take Joseph and Mary. Mary was a teenager and Joseph was an adult carpenter. They became parents of Jesus," he added. "There's just nothing immoral or illegal here. Maybe just a little bit unusual."
Pastor and Billy Graham Distinguished Chair at Wheaton College in Illinois, Ed Stetzer, said that the analogy does not work, however.
"Bringing Joseph and Mary into a modern-day molestation accusation, where a 32-year-old prosecutor is accused of molesting a 14-year-old girl, is simultaneously ridiculous and blasphemous," Stetzer told AL.com.
"Even those who followed ancient marriage customs, which we would not follow today, knew the difference between molesting and marriage."
A JMC Analytics poll meanwhile surveyed the opinions of self-identified evangelicals in Alabama following the scandal, with 37 percent of respondents declaring that they are "more likely" to support Roy Moore in light of the allegations.
Another 28 percent said that they are "less likely" to vote for him, with another 34 percent declaring that the allegations made "no difference."