World's top rugby player Israel Folau loses $4M contract after saying sinners, gays going to Hell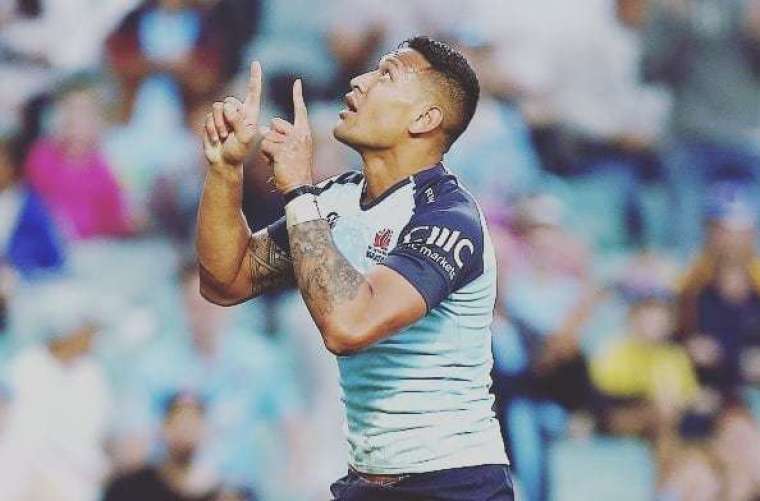 Israel Folau said while he's "deeply saddened" by Rugby Australia's decision to terminate his four-year contract over his opposition to same-sex marriage, he doesn't believe his commitment to his Christian faith should stop him from playing the sport. 
On Friday, a three-member panel announced that it decided to terminate the Wallabies star's employment for what was determined to be a high-level breach of Rugby Australia's code of conduct, the Daily Mail reports. The decision makes the devout Christian the first Australian athlete to be dismissed for expressing religious beliefs.
Folau, Super Rugby's all-time record try-scorer, released an emotional response soon after, saying it had been a "privilege and an honor" to represent Australia and New South Wales and that he was "deeply saddened" by the decision to terminate his employment.
"As Australians, we are born with certain rights, including the right to freedom of religion and the right to freedom of expression," he said. "The Christian faith has always been a part of my life and I believe it is my duty as a Christian to share God's word. Upholding my religious beliefs should not prevent my ability to work or play for my club and country."
Folau went on to thank his wife, star netballer Maria, and others for their support, adding: "Thank you also to those who have spoken out in my defense, some of whom do not share my beliefs but have defended my right to express them."
On Instagram, the Wallabies fullback posted Matthew 6:33: "But seek ye first the Kingdom of God, and His righteousness, and all these things shall be added unto you."
The controversy over Folau's faith erupted on April 10 after he shared a scriptural message on social media that Hell awaits "drunks, homosexuals, adulterers, liars, fornicators, thieves, atheists, [and] idolaters" who do not repent.
"Those that are living in Sin will end up in Hell unless you repent. Jesus Christ loves you and is giving you time to turn away from your sin and come to him," Folau shared on Instagram, along with a series of Bible verses on sin and repentance.
He also commented on a news report about Tasmania making gender optional.
"The devil has blinded so many people in this world, REPENT and turn away from your evil ways. Turn to Jesus Christ who will set you free," he declared on Twitter.
After a weeklong code of conduct hearing in Sydney, a three-person panel last week retired to decide on Folau's fate, eventually deciding to terminate his $4 million contract.
The panel, which considered written submissions from the player's legal team and Rugby Australia, had the option of handing out a fine or a suspension, reports The Guardian. However, given Folau's refusal to recant his comments, they chose termination.
The Guardian notes that Folau rejected a $1million settlement offered by Rugby Australia before the code of conduct hearing over a week ago in Sydney. Now, he will be forced out of the Australian game without financial compensation.
Ahead of Friday's decision, Folau changed his social media profile picture from a photograph of him playing for the Waratahs to a No. 1 overlaid with the words "God first."
In a recent interview with The Sydney Morning Herald at the Truth of Jesus Christ Church in Kenthurst, where Folau attends with his wife, he expressed faith that God is in control of his future, not Rugby officials.
"I believe in a God that's in control of all things," Folau said. "Whatever His will is, whether that's to continue playing or not, I'm more than happy to do what He wants me to do."
"First and foremost, I live for God now. Whatever He wants me to do, I believe His plans for me are better than whatever I can think. If that's not to continue on playing, so be it. In saying that, obviously I love playing footy and if it goes down that path I'll definitely miss it. But my faith in Jesus Christ is what comes first," he said.
"I'll stand on what the Bible says. I share it with love. I can see the other side of the coin where people's reactions are the total opposite to how I'm sharing it.
"But in Ezekiel, chapter 33, verse 11, it says that 'God has no pleasure in the person that's living in sin' ... He's a loving God and He wants people to turn away from what they're living in and He'll give them life," he said.
The 30-year-old has the right to appeal and have his case heard at a second code of conduct hearing by a new panel. However, it is expected that Folau will instead launch action against Rugby Australia in the Supreme Court, The Telegraph reports.