World's top rugby player Israel Folau won't recant statement that sinners, gays will go to Hell
World's top rugby player Israel Folau won't recant statement that sinners, gays will go to Hell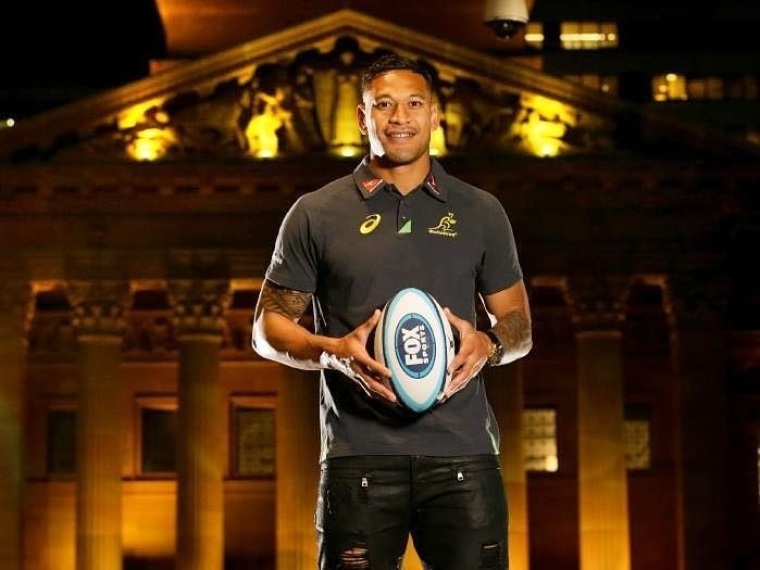 Israel Folau, Australia's most popular rugby player and an outspoken Christian who commands the world's highest salary for the sport, is now in danger of losing his career over his faith, but he says he's ready to walk away if that's what God wants him to do.
The Wallabies superstar has been charged with a high-level code of conduct breach for sharing a scriptural message on social media that Hell awaits "drunks, homosexuals, adulterers, liars, fornicators, thieves, atheists, [and] idolaters" who do not repent. According to the Associated Press, he is expected to face a three-person panel at Rugby Australia HQ in Sydney on May 4. If the hearing doesn't work out in his favor, his contract will be terminated.
The controversy over Folau's faith erupted on April 10, when he shared his message calling sinners, including "homosexuals" to repent.
"Those that are living in Sin will end up in Hell unless you repent. Jesus Christ loves you and is giving you time to turn away from your sin and come to him," Folau shared on Instagram, along with a series of Bible verses on sin and repentance.
He also commented on a news report about Tasmania making gender optional.
"The devil has blinded so many people in this world, REPENT and turn away from your evil ways. Turn to Jesus Christ who will set you free," he declared on Twitter.
In a recent interview with The Sydney Morning Herald at the Truth Of Jesus Christ Church in Kenthurst where he attends with his wife, star netballer Maria, Folau refused to back down from his message and expressed faith that God is in control of his future, not Rugby officials.
"It's obviously a decision that's in the process right now but I believe in a God that's in control of all things," Folau said. "Whatever His will is, whether that's to continue playing or not, I'm more than happy to do what He wants me to do."
And that includes walking away from Rugby.
"First and foremost, I live for God now. Whatever He wants me to do, I believe His plans for me are better than whatever I can think. If that's not to continue on playing, so be it. In saying that, obviously I love playing footy and if it goes down that path I'll definitely miss it. But my faith in Jesus Christ is what comes first," he said.
"I'll stand on what the Bible says. I share it with love. I can see the other side of the coin where people's reactions are the total opposite to how I'm sharing it.
"But in Ezekiel, chapter 33, verse 11, it says that 'God has no pleasure in the person that's living in sin' ... He's a loving God and he wants people to turn away from what they're living in and he'll give them life," he said.
Folau's small church, which is led by his father, is also fully behind his position.
In a Facebook Live Broadcast from the church on Sunday, Folau spoke on the topic "Faith in the Midst of Trials and Challenges" and cited the story of Shadrach Meschach and Abednego in Daniel 3:15-18.
"There was a king, name Nebuchadnezzar who reigned and ruled in Babylon at this time. And he created a big golden image and commanded everyone that was in that city to when they heard the music playing and it stops, for them to bow down and worship this image of God," Folau began in telling the story of how Shadrach, Meshach and Abednego refused to bow.
He explained that what inspired him about the story was how the men chose to have faith without conditions.
"The thing I like about the start of verse 18, 'but if not.' We realize in those few words there, that God has the power to deliver us from absolutely anything. But when we ask the question, does He deliver us from all things? No. It doesn't happen all the time," he said.
"You see [examples of it] in so many Scriptures in the Bible. John the Baptist got killed. God had the power to deliver that, to stop that, but he didn't allow that. The same thing when Jesus was praying in the Garden of Gethsemane. He asked the Father if this cup could pass from me, if not, let your will be done. And these guys understood that. If they don't get saved then their eternal glory was gonna be in heaven. And that was the greatest faith that they could hold unto," Folau explained.
"The thing that we can learn a lot from this is, when we, in relationship with Jesus Christ, with God, sometimes we attach our faith and our trust and our love to God with conditions. We attach it. And sometimes some of us pray and ask God, if You can save us from this, I'll continue to serve you and have faith in you. In verse 18, these three young men, showing us that faith in God, unconditional, regardless of whether you get what you think is the outcome or not. These three young men, shown us what true faith is in the midst of trials and challenges," he said.