Russell Moore, Jim Wallis and Other Christian Leaders Discuss Immigration Reform with President Obama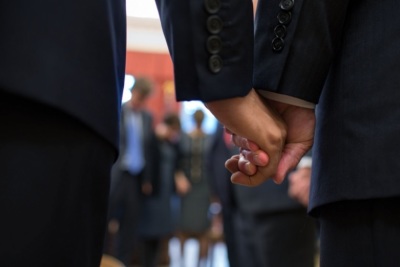 President Barack Obama, Vice President Joe Biden and eight Christian leaders met in the Oval Office on Nov. 13 to discuss the faith community's role in passing immigration reform.
Months after the bipartisan "Gang of Eight" announced a comprehensive immigration reform bill in the Senate, little has happened on the legislative front in a political season that has been dominated by the implementation of the Affordable Care Act and government shutdown.
Jim Wallis, president of Sojourners, a progressive Christian social justice group, said that the meeting did not dwell on the specifics of the political challenges facing reform, but rather was the result of the president's curiosity on how the issue had been discussed within the faith community.
"It was a conversation with President Obama about immigration reform and how this has really united the faith community across our boundaries," Wallis told The Christian Post.
According to a White House press release, Obama "and the leaders discussed their shared commitment to raise the moral imperative for immigration reform and said they will continue keeping the pressure on Congress so they can swiftly pass commonsense reform."
Russell Moore, president of the Southern Baptist Ethics and Religious Liberty Commission, who was also present at the meeting, praised Obama for "taking time to listen and dialogue on an issue of concern to many of us" and said that immigration seemed to be one of the few issues that transcended the politically divided United States.
"My message to the president is that there are many things that divide us as a country, but on this issue we have a remarkable consensus that the system is broken and the government isn't doing its job to keep the border secure, to shore up the economic health of the country, and to keep track of who is and isn't legally here," said Moore in a statement from the Evangelical Immigration Table.
Gabriel Salguero, president of the National Latino Evangelical Coalition, was grateful that the president had created space for leaders to "express the urgency the evangelical community feels around immigration reform."
"It was important to express our ongoing commitment to a bipartisan solution. We hope that our legislators continue to hear our prayers and listen to their constituents, who overwhelmingly favor commonsense immigration reform," said Salguero in a statement.
Wallis said he believes that fear is one of the largest impediments keeping legislators from politically supporting immigration reform.
"I think its two kinds of fear," said Wallis. "There's the short term political fear of losing their seats."
The long-term fear driving the inertia, Wallis believes, relates to the country's changing demographics.
"By 2050 most Americans will come from Africa, Latin America or Asia … which will mean we will not be a majority white culture. We will be a majority minority country. Many white people are afraid of losing their country and they don't want that to happen."
Wallis said that Christians played a critical role in alleviating the country's apprehension by demonstrating that "the body of Christ is intrinsically multi-racial."
Wallis also refuted criticisms that had been levied at Evangelical leaders earlier this year for promoting a political position not held by their congregations, conceding that the criticism may have been valid three to five years ago, but no longer applied.
"If you took a vote of Evangelicals on immigration reform, we would pass it," he said.
Wallis encouraged Christians to pray with their representatives about the issue and consider fasting, adding that it was important that predominantly white constituencies voice these concerns to their representatives on behalf of minority immigrants living in the same community.
He also stressed that it was essential that church leadership articulate their church's position on immigration reform to their representatives.
"[We need to have] pastors calling representatives saying 'I'm from your district. We have a church of 5,000 people. We're watching [immigration reform] carefully," said Wallis.
Other Christian leaders at the meeting were Hyepin Im, president and CEO of the California-based Korean Churches for Community Development, Eusebio Elizondo, auxiliary bishop for the Archdiocese of Seattle, Leith Anderson, president of the National Association of Evangelicals, Joel Hunter, a Florida senior pastor at Northland and an Obama advisor, and Mike McClenahan, a California senior pastor at Solana Beach Presbyterian Church.