Russell Moore Says Charlie Brown Kept Him From Quitting Ministry in Face of Church Hypocrisy, Sin
Russell Moore Says Charlie Brown Kept Him From Quitting Ministry in Face of Church Hypocrisy, Sin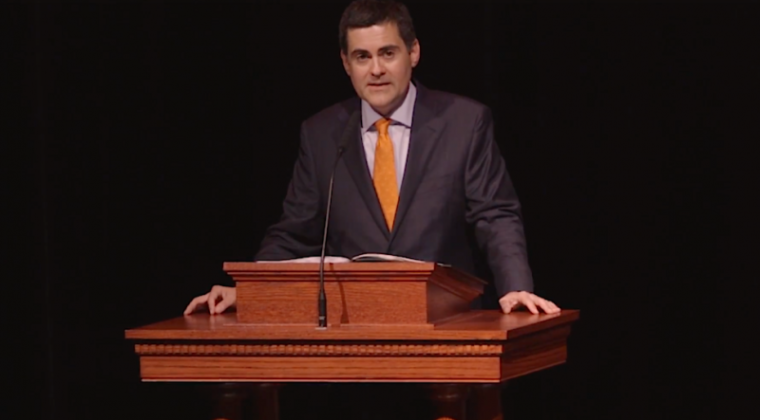 Russell Moore, president of the Southern Baptist Ethics & Religious Liberty Commission, said the character Charlie Brown kept him from quitting ministry when facing church hypocrisy, sin, and deep depression.
"On my desk where I do most of my work there stands a Charlie Brown bobblehead figurine," he said of the beloved character, who made his debut in the Peanuts comic strip in 1950.
"I take that little comic strip figure very seriously because he kept me in ministry on two very different occasions in which I was ready to quit," he said in a blog post Wednesday.
The first occasion, Moore recalled, was early on in his ministry, when he found himself "in a deep depression after seeing things about the underbelly of church life that I wished I had never seen: hypocrisy, backbiting, cover-up, and Darwinian power politics."
One night he was thinking about whether he even wanted to go back to church, let alone serve in ministry, given what he knew about human depravity, including his own, when he turned on the TV and saw "A Charlie Brown Christmas" playing.
It was the words of Luke 2 in the King James Version, as recited by one of the characters, Linus, announcing the birth of Jesus to sheepherders in Galilee, that stirred something inside him.
"There was something about hearing the words, in the King James Version, as old and familiar to me as my own security blanket: 'And the glory of the Lord shone round about them, and they were sore afraid.' It hit me that this was my problem: I was sore afraid," he explained.
"It hit me also that what I was hearing was the glory of the Lord. Even though the words I was hearing were mediated at the moment through, of all things, a cartoon child, they still had their force. The story was more than just a story. The story was true."
Moore argued that God used that moment to lift him out of fear and anxiety, which allowed him to start preaching again "the tidings of great joy."
Moore said that he faced another "awful season" more than 20 years later, when he was confronted with "even worse sin and hypocrisy and power politics."
"I was ready to do something else with my life. More than that, I was angry and sad, in ways that reached deeper than such things ever had before," he recalled.
Still, he decided to go ahead with a filming he had planned with Christian music singer-songwriter Randall Goodgame, concerned with teaching children to memorize Scripture.
"On the way to the set, I listened, for about the millionth time, to my favorite song by Randall, his homage to the Peanuts. What struck me was a line about Schroeder on that piano: 'He played like Harry Truman, without those Coke bottle glasses that only Marcie wore; like Harry Truman, without the atom bomb, without the burden of a third world war,'" he recalled.
"In that moment, I realized that I was approaching the ugliness I was watching the way a wartime President would, protecting my vulnerabilities with my weaponry. I could smile and play on command, but none of that would be real," Moore continued.
"My path to joy, it seemed to me, was to embrace the childlikeness of faith, to ignore the carping on the other side of the metaphorical piano, and to re-enter the joy of my calling, as one who has nothing to prove and nothing to lose."
He concluded that the Charlie Brown figurine continues to remind him that "the most liberating truths I've heard didn't come to me from august heroes of the faith but from unexpected, childlike places, just like where I heard them in the first place."
The ERLC president did not specify the hypocrisy and power politics that left him so discouraged at the time, though he has aired his grievances on numerous topics this past year where he said Christians can do better.
When referring to the scandal surrounding former Republican Senate candidate Roy Moore in November, he warned that Christians cannot pretend to be against moral relativism if they are unwilling to speak out against adults preying on teenage girls.
Moore said that he spends "so much time talking about nominal, culturally Christian 'religion,'" because "it is predatory, soul-twisting, covers over violence and racism and molestation."
"Christian, if you cannot say definitively, no matter what, that adults creeping on teenage girls is wrong, do not tell me how you stand against moral relativism," he stated.
In a seperate post in October, he urged the Church to recognize that white supremacy is a problem that will not go away in American society.
"Our churches should point us away from carnal divisions and toward what Martin Luther King Jr., called the 'beloved community' and toward what our Lord Jesus himself called 'the kingdom of God,'" he said then.
"Many things divide us in this country. The Church should be a signpost for what it means for people to be united not by the blood of their ancestors but by the blood of their Savior."