Russell Wilson Gives God High Praises After Stunning Seahawks Comeback Win Over Green Bay Packers for Spot in Super Bowl XLIX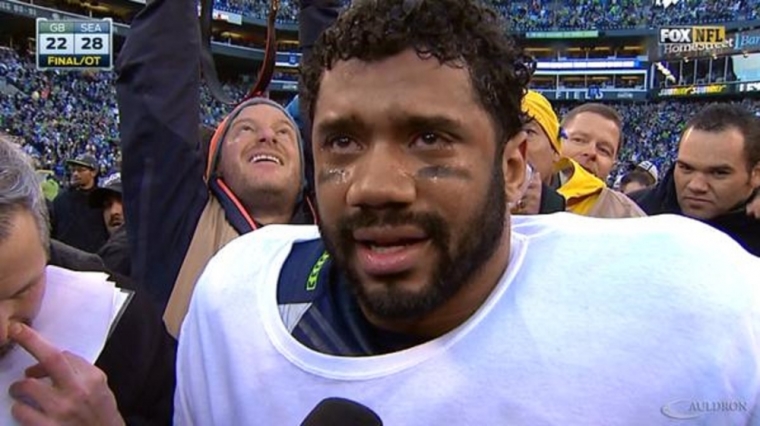 Russell Wilson, the celebrated 26-year-old Seattle Seahawks quarterback, all but declared his team's stunning and historic 28-22 overtime victory over the Green Bay Packers in the NFC Championship Game on Sunday, a miracle.
For all but two of the 60 minutes of regular play, the Seahawks looked like they were about to be sent packing by the Packers. Wilson was sacked four times and threw four interceptions. His team also trailed 16-0 in the third quarter until an incredible fake from punter Jon Ryan who converted what was supposed to be a field goal into a touchdown and made the score 16-7.
With just over two minutes left in regular play, the score line had jumped to 19-7 in favor of the Packers. Things did not look good for the Seahawks until Wilson in a stunning display of grit rushed to a 1-yard touchdown, doubling his team's score with still more than two minutes to spare in the game.
The Seahawks, who are the defending Super Bowl champions, went up by three points thanks to a Marshawn Lynch rushing touchdown and sucessful two-point conversion with just over a minute left to play. However, the Packers forced overtime with a field goal with just 14 seconds left in the fourth quarter. But, the Seahawks quickly slammed the door shut on the Packers' NFL season when Wilson threw a 35-yard touchdown pass to Jermaine Kearse on the first drive of overtime to earn the Seahawks' second consecutive Super Bowl berth.
Shortly after the gutsy win, Wilson and his teammates openly bowed in a prayer circle on the field.
When sideline reporter Erin Andrews asked Wilson what was key to what is now the biggest comeback in championship game history, Russell told her it was faith.
"Just making the plays at the end. Keep believing. There was no doubt, I just had no doubt. We had no doubt as a team," he said.
"The funny thing is I was on the sideline right before we went off that last drive and I told (offensive coordinator Darrell) Bevell, 'be ready for the check', for the play that we just ran through the touchdown. I said 'I'm gonna pull a touchdown and win the game'. And sure enough man. I just believe that God prepared me for these situations. God's prepared our team too as well. Like I said, I'm honored to be on this team. I'm going to the Super Bowl again."
Just hours before the game Wilson tweeted: "All my hope is in You Jesus! You are my anchor that is never shaken!"
Shortly after the win, he added another tweet saying: "Headed back to the Super Bowl!!!! QBs in the House! Glory to God!One Mission. #MakeThemNotice."
Super Bowl XLIX will be played at the University of Phoenix Stadium in Glendale, Arizona on Feb. 1.