Russell Wilson Treats Seattle Children's Hospital Dads to Luxury Game Tickets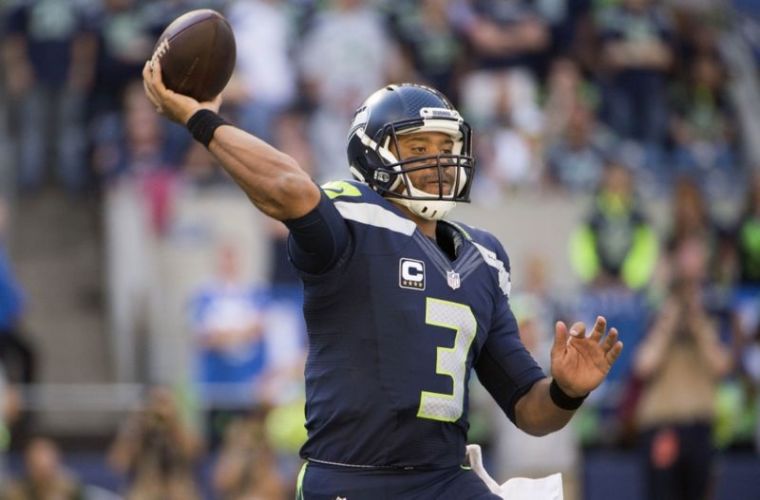 Russell Wilson celebrated his first official Father's Day weekend by gifting other dads at the Seattle Children's Hospital.
Wilson, the 28-year-old star quarterback for the Seattle Seahawks, arrived at the Seattle Children's Hospital on Saturday with gift baskets for fathers who have been frequenting the hospital to take care of their sick kids. The NFL star who welcomed his first child with singer wife Ciara last April gifted the fathers in the hospital with tickets to his game along with other items like razors.
The football player, who volunteers at the children's hospital weekly, said it was exciting for his Why Not You Foundation to surprise the fathers with the help of Pampers.
"It's exciting to be partnering with Pampers to be able to focus on fathers and all the great fathers around the world, and to focus on developing happy and healthy kids," he told People.
"We gave a cool gift basket to all the amazing fathers at Seattle Children's with diapers and other goodies, and also five tickets in a luxury suite to a Seattle Seahawks game. It was a special thing to thank them for all the love, attention and care."
Through his foundation with the help of Pampers, Wilson said he hoped to shed light on the fact that the fathers at the hospital are supporting their children even through hard times.
"Pampers and my Why Not You Foundation help support the idea that it really does matter how fathers are in their kids' lives through the good times and the bad. At Seattle Children's there are some ups and downs obviously with the young kids there but seeing some of the fathers there and how much they love their children, it's so special," he told People
"To see the fathers there and just to be able to see their smiling faces and their hearts and how their eyes lit up, and to be able to see the boys and girls really cherish their fathers, it's really a special thing. It shows how much love is so important in our world today and those fathers were definitely doing that. The idea of happy and healthy development is always key in our world.".
While Wilson was honoring other fathers over the weekend, his singer wife made sure to let the world know what a great dad he is to their newborn baby Sienna and her 3-year-old son, Future Wilburn, from a previous relationship with rapper Future.
"Since Day 1, you have always been there with open arms! You have always given your all," she wrote on Instagram Sunday. "I'm so grateful for the fan and Father you are to our family. You are truly The Best Dad In The World."