Russia Killed More Civilians in Syria Than Either ISIS or Assad, Report Finds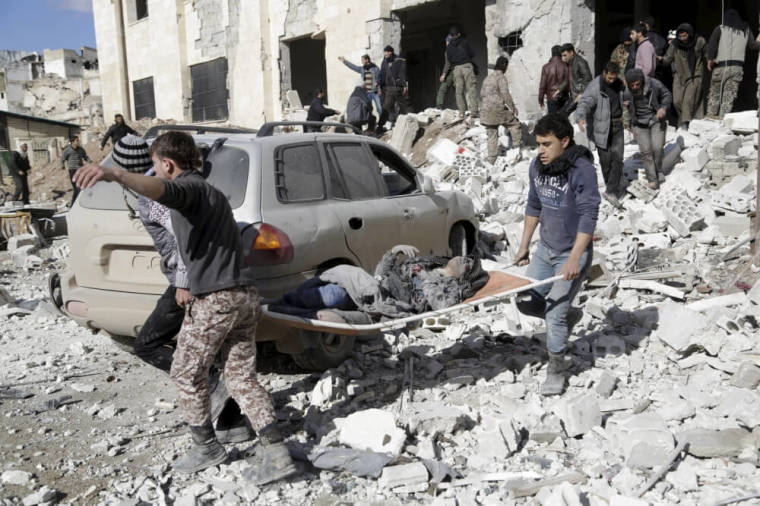 More civilians were killed in Syria last month at the hands of the Russian military than at the hands of either the Islamic State terrorist group or the regime of Syrian President Bashar Al-Assad, a leading human rights group calculates.
According to a new report released by the Syrian Network for Human Rights, there were at least 1,382 civilians in Syria that were killed in January as a result of ongoing conflicts in the nation.
At least 679 civilians were killed as a result of Russian air strikes, including 73 women and 94 children.
Troops and militias loyal to the Assad regime, whom Russia is aiding, are believed to have killed at least 516 civilians, 83 children and 60 women. The report also highlights that Assad's forces and militias tortured 53 people to death.
ISIS (also known as IS) jihadis were responsible for killings at least 98 civilians, 21 women and just one child. Other armed opposition groups killed at least 42 civilians, 10 women and 9 children. The report lists unidentified groups as responsible for the killings of at least 41 civilians, 12 children and 11 women.
Kurdish self-management forces were responsible for the deaths of at least three civilians and the Al-Qaeda-linked Al Nusra Front also killed three civilians.
Although the group only has the information and documentation to certifiably record that 1,382 civilians were killed, the organization suspects that the death toll from January was much larger.
The report accuses Russian forces and the Assad regime of violating human rights laws and claimed that 90 percent of their attacks targeted civilians.
"SNHR affirms that government forces, its militias (Shabiha) and the Russian forces have violated the principles of the human rights international laws which protect the right to life," the report states. "All evidence and eyewitnesses' testimonies prove that more than 90 percent of the wide and individual attacks targeted civilians and civil points."
The report comes as officials from Turkey and France are accusing Russia of perpetrating war crimes after deadly airstrikes on five medical facilities and two schools in rebel-held areas killed at least 50 people earlier this week.
According to the president of the humanitarian organization Doctors Without Borders, Mego Terzian, it was either Russian or Syrian forces who dropped four rockets at a Doctors Without Borders-funded hospital in Syria's Maarat al-Numan province on Monday.
After the air strike on the medical center, the Syrian Observatory for Human Rights reported that it was Russian warplanes who carried out the airstrike.
Terzian told Reuters that the at least 17 health facilities have been hit in the last six weeks.
Russia has repeatedly denied allegations that it has killed and targeted citizens.
"We categorically reject such claims, even more so because each time those who make such claims prove unable somehow to corroborate their unsubstantiated accusations," Russian President Vladimir Putin's spokesman Dmitry Peskov said at a press conference in Moscow.
U.N. Secretary-General Ban Ki-moon called the airstrikes "blatant violations of international laws" that "are further degrading an already devastated health care system and preventing access to education in Syria."
The SNHR report recommends that all parties that are guilty of committing war crimes be held responsible by the international community and suggests that the UN Security Council pressure states that support Russia, Iran and Lebanon to stop the flow of weapons that are being used to commit crimes against humanity.