Russia's Persecution of Christians Intensifies; Putin Can't Be Trusted, Experts Warn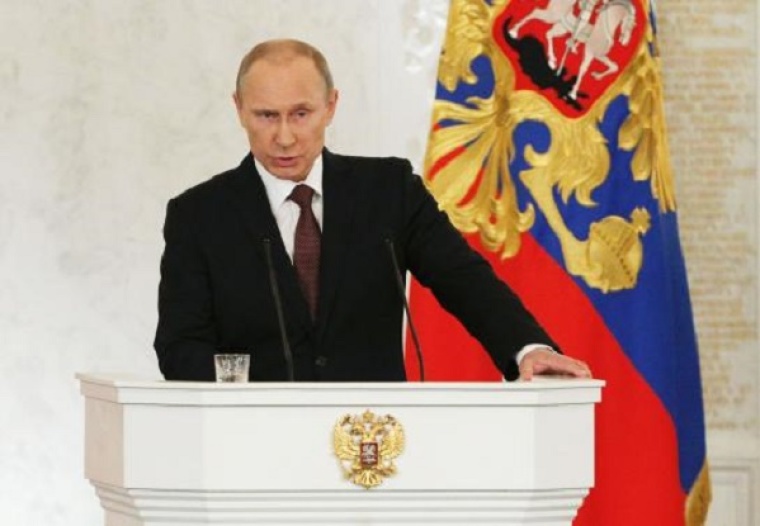 Some Christian foreign policy experts are warning that despite Russian President Vladimir Putin's stated mutual interest in combating radical Islamic extremism, he cannot be regarded as a defender of Christians amid his country's crackdown on non-Russian Orthodox denominations.
George Barros, a former congressional staffer for former congressman Steve Stockman of Texas, who sat on the subcommittee on Europe, Eurasia and Emerging Threats, underscored Russia's persecution of religious groups that don't recognize the authority of the Russian Orthodox Church, which dominates religious life and is strongly allied with President Vladimir Putin, in Providence foreign policy journal on May 12.
Amid polls showing Putin's favorability numbers and rising support for Russia among Americans, Barros said, "[p]erceptions that Russia is a defender of Christendom in an increasingly secular world are not based in reality."
"Any discussion concerning the relationship between Christianity and Russia cannot fail to take into consideration the Russian Orthodox Church, which dominates practically all aspects of Christianity in Russia," Barros said, asserting that Patriarch Kirill, head of the Russian Orthodox Church, is believed to be a former KGB agent.
Mark Tooley, president of the Washington-based Institute on Religion & Democracy, told The Christian Post in an interview this week that from a strategic perspective, the United States collaborates on some issues with unsavory governments.
Yet, "it would be unwise for Americans, Christian or otherwise, to be enthusiastic about Putin who has basically subverted Russia's nascent democracy and has established himself as a strongman and certainly should not be a political model for American Christians," Tooley said.
American Missionary Baptist Pastor Donald Ossewaarde, who has been a missionary to Ukraine and Russia since the late 1990s, according to his website, told the Baptist Press in late April that he anticipates the repression of religion in Russia "to continue to get worse" and doesn't "see any sign of the Russian government having a change of heart."
Last year, Putin signed the Yarovaya law that bans all missionary activities in residential areas and requires Christians who want to share their faith with others, even on the internet, to obtain authorization documents from a religious association. It also imposes a fine of $75 to $765 if the violator is a Russian citizen, and a fine of up to $15,265 in case of an organization, while foreigners would be deported, The Christian Post has reported.
Ossewaarde was recently fined under the Yarovaya law for operating a Bible study in an unregistered church in Oryol. Similarly, citing the Yarovaya law, in December 2016 a Russian court ruled that 40 Bibles the Salvation Army was distributing had to be destroyed. In parts of Russian-occupied Ukraine, photographs show Ukrainian evangelical Pastor Aleksandr Khomchenko who was allegedly beaten by authorities in an attempt to convert him.
The Orthodox Church is "on a roll" and "emboldened," Ossewaarde said, highlighting their success in the past few months in using the government to shut down religious groups.
On April 20, the Supreme Court of Russia ruled that Jehovah's Witnesses were an extremist group, and permitted the government to freeze their bank accounts and seize their assets, a decision condemned by the United States and the European Union.
Yarolsav Sivulskiy, spokesman for the Jehovah's Witnesses in Russia, like Ossewaarde, does not think conditions will improve, telling Newsweek on Wednesday the group has "no big hope" in the appeals process they are undertaking unless "the political wind will change somehow."
"Even within Eastern Orthodoxy," Barros continued, "Orthodox Christians who don't adhere specifically to the ROC are persecuted. A Russian court ordered for the only Ukrainian Orthodox Church in Russia to be demolished at the expense of the Ukrainian diocese, and ROC clergy condone the Kremlin's war in eastern Ukraine as a type of 'orthodox jihad' against Ukrainian Orthodox apostates who do not recognize the one true and 'rightful' Eastern Orthodox patriarchate — the Moscow Patriarchate."
Such behavior of both the Russian government and state church "should be intolerable and eye-opening," Barros added. "As keepers of our brothers and sisters in Christ, American Christians owe it to be vigilant observers and not fall for Moscow's honeycomb narratives manufactured with decades of Soviet disinformation experience specifically designed to resonate with foreign audiences."
Tooley reiterated his point that Putin has been deceptively portrayed as a friend of Christianity and persecuted Christians in the Middle East, saying, "He could superficially look like a champion of Christianity if you don't appreciate his cynical manipulation of religion for his own political purposes and for further aggrandizing his authoritarian regime."
Last week, evangelist Franklin Graham and the Billy Graham Evangelist Association held the first ever World Summit in Defense of Persecuted Christians in Washington, D.C. after deciding not to hold the event in Moscow following Russia's crackdown on evangelism.
The Russian Orthodox Church had announced last March that they would be a co-sponsor of the world summit, being an ally in combating global persecution of Christians, but Graham made the decision to move it to the U.S. following the adoption of the Yarovaya law.