Add Russia to State Dept. List of Worst Religious Freedom Violators, USCIRF Says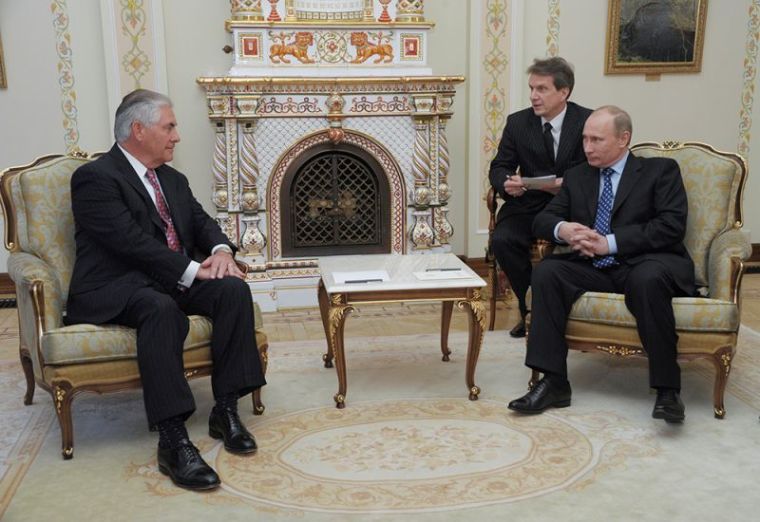 The panel responsible for advising the United States State Department on international religious freedom issues has recommended that Russia be listed for the first time as a "country of particular concern" for violating religious liberties.
The U.S. Commission on International Religious Freedom, a bipartisan panel created by the International Religious Freedom Act of 1998 to make policy recommendations to the president and executive agencies, released its 2017 Annual Report on Wednesday.
The report calls on the State Department to re-designate 10 countries — Burma, China, Eritrea, Iran, North Korea, Saudi Arabia, Sudan, Tajikistan, Turkmenistan, and Uzbekistan — as "countries of particular concern." The designation is meant to signify nations that are guilty of severe violations of religious freedom as identified in the International Religious Freedom Act.
In addition, the report calls on the State Department to list six more countries as CPCs. Those countries are Central African Republic, Nigeria, Pakistan, Russia, Syria, and Vietnam.
"On April 20, the Russian Supreme Court issued a ruling banning the existence of the Jehovah's Witnesses in that country. Their right to religious freedom is being eliminated thoroughly — and yet 'legally' under Russian law," the report explains. "Russia's continued use of its 'anti-extremism' law as a tool to curtail religious freedoms is one of the reasons USCIRF has recommended for the first time that Russia be designated as a 'country of particular concern,' or CPC, under the International Religious Freedom Act for particularly severe violations of religious freedom."
Last June, Russia passed an anti-terrorism law that bans proselytizing and missionary activities. Although proponents of the law claim it is an effort to crackdown on Islamic extremism, human rights and religious freedom advocates argue that the law "doesn't do that much to defend from terrorism and only prevents Christians and others who are not Orthodox from preaching and proselytizing,"
Because of the law, Christian and other faith leaders have been arrested for simply sharing their faith. In fact, even an American pastor was charged under the anti-terrorism law.
The USCIRF report states that Russia presents a "unique case" because it has "continually intensified its repression of religious freedom since USCIRF commenced monitoring it" in 2000 and has also "expanded its repressive policies to the territory of a neighboring state, by means of military invasion and occupation."
"Those policies, ranging from administrative harassment to arbitrary imprisonment to extrajudicial killing, are implemented in a fashion that is systematic, ongoing, and egregious," the report explains.
Designating Russia to be listed as a CPC would be an "appropriate" action for the State Department to take, evangelical author and international religious freedom advocate Johnnie Moore, told The Christian Post on Wednesday.
"I absolutely believe that Russia's efforts to marginalize evangelicals and ban Jehovah's Witnesses reflect a hugely alarming change in opposition to democracy in favor of totalitarianism and the defiance of religious liberty," said Moore, who is reportedly among religious freedom advocates in consideration to be nominated as the ambassador at-large for international religious freedom. "Those actions need to responded to forcefully by the world and it is absolutely appropriate to designate them as USCIRF has."
Moore explained that before Russia took actions in the last year to crackdown on non-Orthodox Christians and Jehovah's Witnesses, he was "feeling very positive about the role that Russia was finding itself in the protection of Christians in the region."
"Russia's entire motivation for a number of decisions in the region have related directly to protecting Orthodox communities," Moore, a former vice president at Liberty University, said. "While I absolutely condemn and am appalled by these actions and I think they ought to be noted for it as a country of concern, on the same token, I do appreciate their ongoing voice on behalf of orthodox communities in the world."
"But they are deciding who they are going to stand up for. The message that they are sending by alienating evangelicals is that they are happy for evangelicals to be persecuted or to die as long as orthodox Christians don't," Moore continued. "That is the wrong message. It isn't reflected by any of the orthodox Christians that I have interacted with in Iraq and Syria who are working very closely with Christians of all types to secure religious freedom and find a future home for Christians in the Middle East."
Republican Sen. James Lankford, R-Okla., also praised the USCIRF's recommendations.
"The right to practice any faith, or have no faith, is a fundamental human right of all people, no matter where they live," Lankford said in a statement shared with CP. "Nations that oppress this basic human right are bound to violate other human rights, and in some regions, the evil of religious-based genocide rises up within its borders."