Russia Probe Not a 'Witch Hunt,' Clinton Investigator Ken Starr Says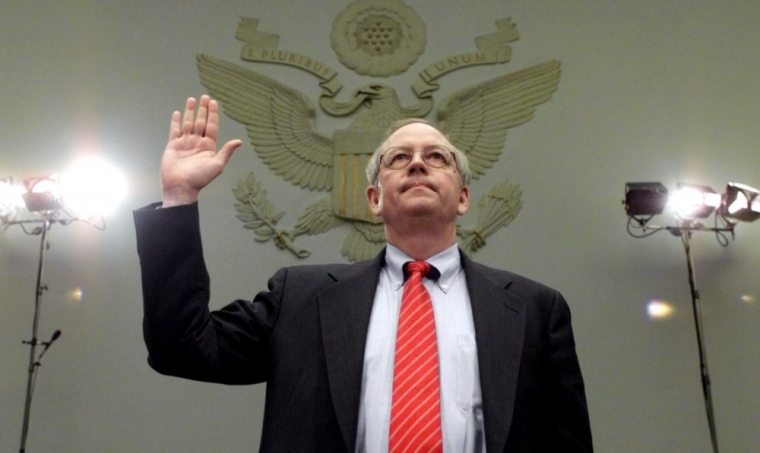 Ken Starr, who investigated President Bill Clinton leading to his impeachment, said President Donald Trump's characterization of special counsel Robert Mueller's Russia investigation as a "witch hunt" is not correct and that it is Trump's "moral obligation" to testify.
"I think there may be a moral obligation, frankly, because he is the president of the United States," Starr, former solicitor general of the United States, told CBS' "Face the Nation" Sunday.
Calling it "definitely a serious case," Starr told host Margaret Brennan, "We know that from the indictments and guilty pleas that have already been obtained."
Trump has called the investigation a "witch hunt" in public statements and on Twitter. 
"When and where will all of the many conflicts of interest be listed by the 13 Angry Democrats (plus) working on the Witch Hunt Hoax. There has never been a group of people on a case so biased or conflicted. It is all a Democrat Excuse for LOSING the Election. Where is the server?" he tweeted June 7 in reference to the investigation.
Mueller's investigation into Russian interference in the 2016 elections has thus far netted six guilty pleas (one of which has been sentenced), 23 defendants, and 79 criminal charges. 
While Mueller's investigation has progressed over the last one year, a recent poll by NBC News–Wall Street Journal showed that 53 percent of voters have at least "some" confidence that it's a fair investigation and 40 percent have little or no confidence in its impartiality, according to The Hill.
Starr added that he "greatly respects" Mueller. "Now, these are charges, presumption of innocence in the United States, and that's a very precious right that we have. These charges are going to have to be proven. But what this (evidence) shows is that Bob Mueller is very seriously looking at a variety of issues and questions," he added.
Starr acknowledged that Trump "clearly has the authority to direct the firing, if not a direct firing himself," but added that that would "certainly" be "a political firefight of the highest order."
"You have people in both parties saying, this is an authorized investigation, let it run its course," he pointed out.
However, firing couldn't be seen as "obstruction of justice," Starr added, and continued that he disagrees "with those who seem to find obstruction of justice in almost anything that the president has done."
Brennan asked Starr, "If you were consulting with President Trump's lawyers, would you advise him to sit with council, and sit with Bob Mueller?"
"I think they'd better be cautious," Starr responded. "And I think they are being cautious. First, we have to remember, this is the president of the United States and this is an authorized law enforcement investigation. So that makes the situation unique. Looking at it simply from the perspective of a defense lawyer, you never want your client, unless you have an extraordinarily high level of confidence, to be exposed in this way."
He added, "So there are only two perspectives here, the president, you're talking to the president of the United States, but he also is the — at least the subject of a serious investigation. So I think caution is the rule of thumb here."
NBC News–Wall Street Journal also showed 37 percent of voters said they believe that President Trump's campaign colluded with Russia, while 34 percent said they do not believe the campaign worked with Russia. And 28 percent said they don't know enough to have an opinion.