Russia Reports 'Biblical Bombshell' as River Turns Blood Red, Experts Searching for Cause (VIDEO)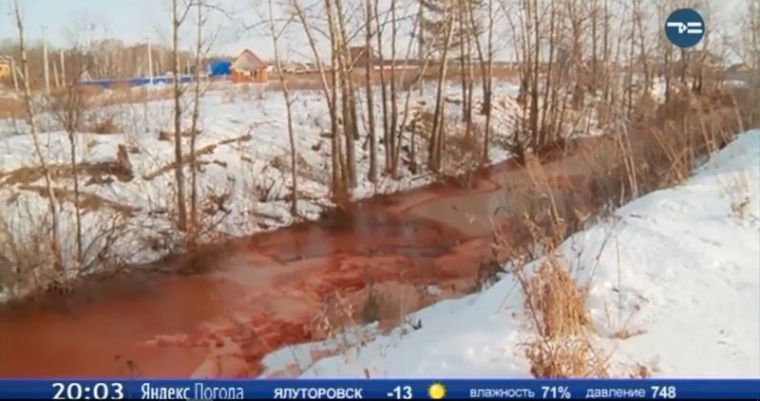 A Russian-government owned news agency has reported that the Molchanka River in Russia's Tyumen region has turned a blood red color, describing it as a "biblical bombshell," with experts investigating the possible reason.
TASS news agency reported Tuesday on photos and videos on social media that have been documenting the strange pigmentation of the river that runs between the villages of Novotarmansky and Molchanovo, with local administration officials alerted as well.
"Rosprirodnadzor has carried out water intake, it was sent for examination to the Center for Epidemiology. An examination will last for three days," spokeswoman Galina Yevseeva of the Tyumen administration said, referring to the Federal Service for Supervision of Natural Resources.
"So far we have no assumptions what it could be, we have never dealt with this before so we are waiting for the results of the test," she added.
The Tyumen-Vodokanal company, which maintains the water supply and sanitation for the town, has argued that the incident should not affect the water supply for residents.
The Siberian Times published several other photos of the river among the snow-covered banks on Wednesday, and said that Tyumen residents have been complaining that authorities have been slow to respond to health risk concerns.
"The River Molchanka turned red, or red-orange about a week ago," said Novotarmansky village resident Maria Parashchenko.
Parashchenko added that the color "doesn't seem to change in hue or intensity."
Another resident who wasn't named warned that "this could be very serious."
Regional official Irina Miteva has sought to alleviate fears, however, by sharing that no trace of sewage discharges has been found as of yet.
"Extra water samples were taken," Miteva said.
"Laboratory results will be ready by the end of this week."
It is not the first time rivers colored blood-red have startled Russian residents. ABC News reported on a similar story in September 2016, when photos on social media documented the discolored Daldykan River near the city of Norilsk, inside the Arctic Circle.
A giant metals plant leak was suggested by authorities as the possible cause for the red color of the river at the time.
In another such incident in Texas in August 2011, some residents talked about possible connections to the End Times as described in the Bible.
Paul Begley of Community Gospel Baptist Church in Knox commented on the blood-like color of the OC Fisher Reservoir in San Angelo State Park, saying at the time: "I'm not saying that this Texas lake is these scriptures in Revelation, but what I am saying is the Bible prophecies are slowly fulfilling themselves in the midst of an End Time revelation — that we need to be right, we need to be saved, we need to be born again and ready to meet the coming King."
Watch a video of the blood red Molchanka River below: