For Russian Collusion, Look at Democrats and Fusion GPS, Not Trump, Kellyanne Conway Says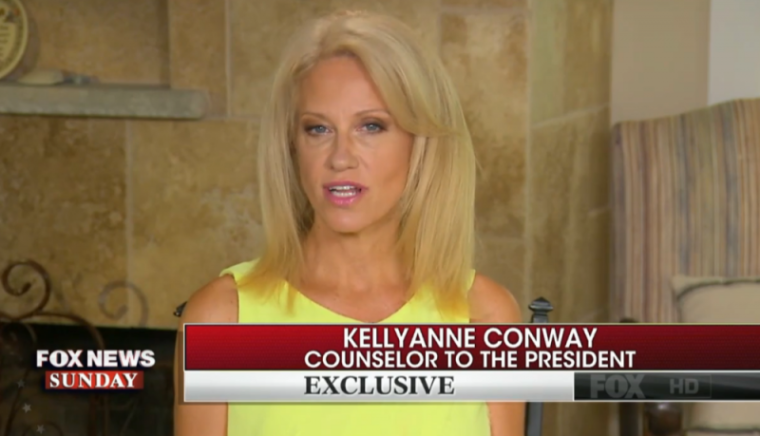 Kellyanne Conway, a senior adviser to President Donald Trump, said Sunday that while media was obsessed with the "ridiculous Russian collusion delusion" about the 2016 presidential election, they should have looked at the left-wing firm Fusion GPS, which is allegedly responsible for the Trump-Russia dossier, which is full of "falsities and lies."
"Look what's happened with this ridiculous Russian collusion delusion. You see all these journalists who built entire TV sets and lower thirds and screaming graphics and breathless coverage now slinking away this week … from Russian collusion coverage, why, because you have everybody from Jared Kushner giving his — meeting with the Senate and giving his public statement," Conway said on "Fox News Sunday."
Media recently reported about a 2016 meeting between Donald Trump Jr. and a Kremlin-connected Russian lawyer, Natalia Veselnitskaya, who allegedly promised damaging information about Hillary Clinton.
"We were promised the next Watergate," Conway added. "We don't even have water polo. We don't even have watermelon. It's so ridiculous and the only thing I can see happening with Russia right now is this Fusion GPS matter as the Senate witnessed who said everybody should go look over there and what's happened. Somebody being paid by the Russians to compile a damaging dossier on Donald Trump, again, filled with falsities and lies."
It was recently revealed that the Hillary Clinton-backed firm Fusion GPS allegedly commissioned an unverified intelligence dossier with allegations about Trump.
In her Wall Street Journal column, Kim Strassel points out that "the exact time Fusion was working with the Russians, the firm had also hired a former British spy, Christopher Steele, to dig up dirt on Mr. Trump."
"Mr. Steele compiled his material, according to his [Trump Dossier] memos, based on allegations from unnamed Kremlin insiders and other Russians. Many of the claims sound eerily similar to the sort of 'oppo' [former Soviet counterintelligence officer] [Rinat] Akhmetshin peddled. [Akhmetshin attended the June 2016 Trump Tower meeting with Donald Trump, Jr., Paul Manafort and Jared Kushner.]"
She goes on to note that GPS Fusion co-founder Glenn Simpson "is tight with Democrats."
"His current attorney, Joshua Levy, used to work in Congress as counsel to no less than Chuck Schumer," she adds.
In testimony before the Senate Judiciary Committee last week, financier Bill Browder submitted that the firm spread vicious lies about Sergei Magnitsky, a Russian lawyer who was imprisoned and killed for exposing corruption in Putin's regime, according to The Atlantic.
"Veselnitskaya, through (U.S. law firm) Baker Hostetler, hired Glenn Simpson of the firm Fusion GPS to conduct a smear campaign against me and Sergei Magnitsky in advance of congressional hearings on the Global Magnitsky Act," Browder's prepared remarks read. "He contacted a number of major newspapers and other publications to spread false information that Sergei Magnitsky was not murdered, was not a whistle-blower, and was instead a criminal. They also spread false information that my presentations to lawmakers around the world were untrue.
"As part of Veselnitskaya's lobbying, a former Wall Street Journal reporter, Chris Cooper of the Potomac Group, was hired to organize the Washington, D.C.-based premiere of a fake documentary about Sergei Magnitsky and myself. This was one the best examples of Putin's propaganda."
When the Senate Judiciary Committee earlier asked Fusion GPS to provide records about the financing of the dossier, it refused to cooperate, according to New York Post.
In a statement to The New York Times, Trump Jr. said he had met the Russian lawyer at the request of an acquaintance from the 2013 Miss Universe pageant, which his father took to Moscow.
"After pleasantries were exchanged, the woman stated that she had information that individuals connected to Russia were funding the Democratic National Committee and supporting Mrs. Clinton," he said. "Her statements were vague, ambiguous and made no sense. No details or supporting information was provided or even offered. It quickly became clear that she had no meaningful information."
He added that the lawyer's real intent appeared to be adoption of Russian children and the Magnitsky Act in the U.S., which blacklists suspected Russian human rights abusers. "It became clear to me that this was the true agenda all along and that the claims of potentially helpful information were a pretext for the meeting."