Trump Claims Putin Would Have Preferred Hillary Clinton to Win Election in Pat Robertson Interview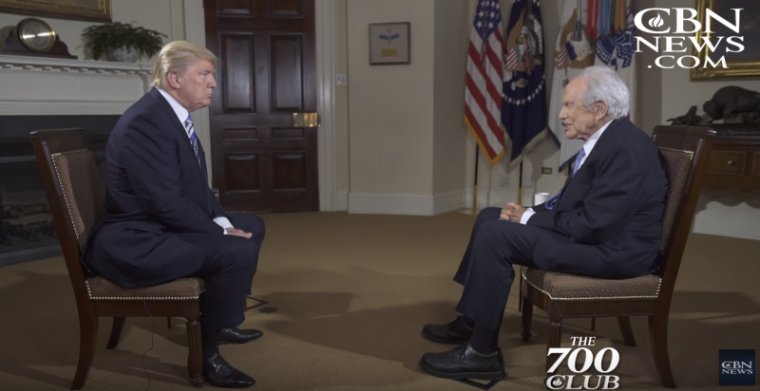 President Donald Trump has stated that he believes Russian President Vladimir Putin would have preferred Hillary Clinton to win the election last November rather than him.
In an interview with longtime televangelist Pat Robertson that aired Thursday on CBN's "700 Club," President Trump argued that his policies towards the military and energy development stand at odds with what Putin would want.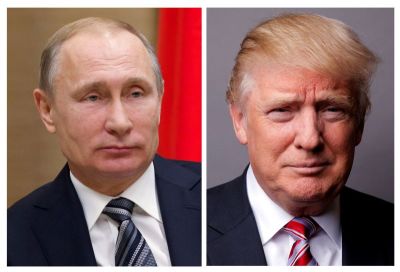 "Why would he want me? Because from day one I wanted a strong military, he doesn't want to see that, and from day one, I want fracking and everything else to get energy prices low," said Trump.
"We're going to be exporting energy. [Putin] doesn't want that. He would like Hillary. Where she wants to have windmills. He would much rather have that because energy prices will go up and Russia, as you know, relies very much on energy."
Trump also said that "there are many things that I do that are the exact opposite of what" Putin would want from an American president.
"So when I keep hearing about how he would have rather had Trump, I think probably not, because when I want a strong military, you know [Hillary] wouldn't have spent the money on the military," continued Trump.
Trump also told Robertson that while Putin "wants what's good for Russia, I want what's good for the United States."
"I think in a case like Syria where we can get together, do a ceasefire, and there are many other cases where getting along can be a very positive thing," added Trump.
"... but always Putin is going to want Russia and Trump is going to want the United States and that's the way it is."
As part of his effort to reach out to evangelicals, a crucial Republican voting bloc, Trump has talked with Robertson in the past.
For example, in February of last year Trump was part of Regent University's Executive Leadership Presidential Candidate Forums, where he fielded questions from Robertson, including what parameters he had for Supreme Court nominees.
"Pro-life. ... It starts with that, starts with it. A very conservative, a very, very smart, I mean like Judge (Antonin) Scalia would be a perfect, he was a perfect representative," responded Trump.
For his part, Robertson has been a strong supporter of Trump. Last October when Trump was dealing with backlash over the release of sexist comments from 2005, Robertson argued that Trump was "trying to look like he's macho."
"Eleven years after that, they surface it from The Washington Post to whatever, bring it out within 30 days or so of the election and this is supposed to be the death blow and everybody writes him off," said Robertson last year.
"The Donald says no. He's like the phoenix. They think he's dead, he's come back. And he came back strong. So, he won that debate."
Trump's remarks about Putin preferring Hillary come as more allegations surface of collusion between the Trump campaign and Russia during the 2016 election.
Earlier this week, The New York Times released a report showing that Donald Trump Jr. met with a Russian attorney in the hopes of getting information that might harm the Clinton campaign.
Trump Jr. has denied any wrongdoing, claiming it was simply opposition research, while some have argued that provides more proof that the president and his associates are unlawfully colluding with a foreign power.