Ryan Dobson Doesn't Let Children Watch a Lot of Disney; Here's Why (It's Not What You Think)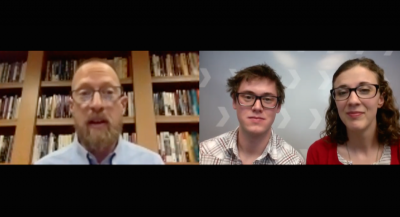 Ryan Dobson, son of renowned evangelical leader James Dobson, recently revealed that he does not allow his children to watch a lot of Disney — or more specifically, "new Disney" — shows.
While he did not express much qualms about old Disney shows, the 47-year-old parent indicated he's not a fan of today's Disney.
"We don't let our kids watch a ton of Disney, at least not a ton of new Disney. Disney kids disrespect their parents all the time," Dobson said in a Parenting Teens Summit broadcast Monday. 
"Here's the thing with that. It's funny because it's Disney and the kids are cute and they script funny things to say … we all laugh at it. But when you run that in the background all the time, your subconscious starts listening to it and all of a sudden that's just how kids talk and then your kids start talking that way," he explained.
His comments come as more Christians have expressed their concern with Disney, particularly the introduction of LGBT characters, such as a 13-year-old character coming out as gay in "Andi Mack," and gay kissing in "Star vs. the Forces of Evil." 
Dobson, who founded Rebel Parenting with his wife last year, has two children — a 10-year-old son and a 5-year-old daughter. When it comes to raising kids, he said one thing's for sure: "parenting is difficult."
"It's the only job you do that you don't know how good of a job you've done until it's way too late, until your kids are grown. So it increases the guilt, the shame and the anxiety and the worry," he admitted.
But one of his parenting philosophies is to keep his children "younger longer."
Today in the age of social media and smartphone technology, kids tend to grow up fast and know a lot more than adults today did when they were young, Dobson noted.
With that, he wants his children to be a kid and be innocent as long as they can.
"People go 'oh, you're sheltering your kids?' I say 'You're darn right I'm sheltering my kids. That's my job. I'm going to protect them as long as I can," said Dobson.
In the end, children want their parents to set rules and boundaries because that is what gives them "safety and security" he explained.
"And it shows them how much you love them," he stressed.
Other parenting advice he provided included allowing children to fail over and over again and supporting them through that process because "that's what Jesus says for us."
"He (Jesus) never goes, 'what? You sinned again? Are you kidding me? I gave you a book. I died for you. I did all these things. I can't believe you did it again!'" Dobson noted.
"Every sin we commit, the Lord feels that and He says 'I stand,' not 'I stood,' … 'I stand right now [at the door] and knock.' That's the parent we get to be … We'll blow it all the time because we're not Jesus … there's nothing we can do to be the parent Christ wants us to be. We have to do it through Christ."