S. Truett Cathy, Founder of Chick-fil-A, Dies at 93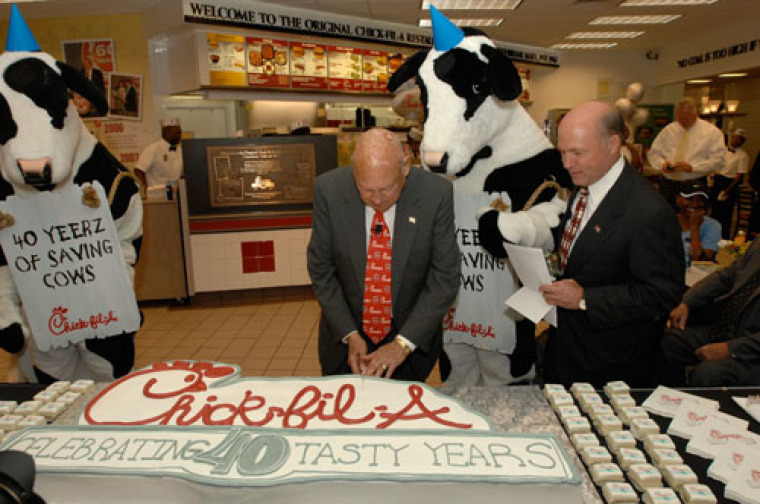 S. Truett Cathy, the 93-year-old billionaire and founder of Chick-fil-A, died early Monday morning surrounded by family, according to a spokesman for his company.
In a statement released soon after Cathy's death, the company announced that a public funeral will be held for the Chick-fil-A founder on Wednesday at First Baptist Jonesboro in Jonesboro, Georgia.
"In addition to presiding over one of the most successful restaurant chains in America, Cathy was a dedicated husband, father and grandfather," noted the company.
"He is survived by his wife of 65 years, Jeannette McNeil Cathy; sons Dan T. and Don 'Bubba' Cathy; daughter Trudy Cathy White; 19 grandchildren and 18 great-grandchildren."
Cathy opened his first Chick-fil-A restaurant in Atlanta back in 1967. At present, the chain has over 1,800 locations and is worth approximately $5 billion.
A devout Southern Baptist, Cathy's business has a policy of being closed on Sundays.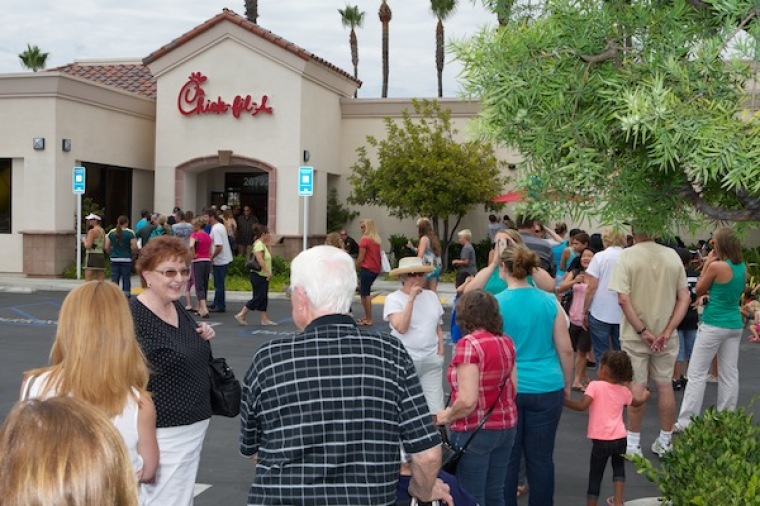 Cathy and his family have been known to offer support to socially conservative causes, much to the chagrin of various political groups, noted CNN.
"Chick-fil-A's leadership shares Cathy's religious beliefs, openly espousing biblical values not only in its operating principles but in its conservative definition of family as well," reported CNN.
"Gay and lesbian rights groups have had a longstanding beef with Chick-fil-A over what they claim is the company's opposition to gay marriage."
Despite calls for boycotts and even the closing down of their restaurants, the controversy has not harmed Cathy's business.
"The family-owned company has said it has had 46 consecutive years of positive sales growth," The Associated Press reports.
"Cathy's $6 billion fortune as the founder of Chick-fil-A puts him on the yearly Forbes magazine list of the wealthiest Americans in the country."
While Truett passed his leadership position in the company to his son, Dan, the founder remained active in Chick-fil-A management through his 80s.
He also authored multiple books from 1989 to 2011 on various nonfiction topics and funded his share of philanthropic endeavors.
These included setting up several foster care homes across the South via the WinShape Homes program and giving over $25 million in $1,000 scholarships to Chick-fil-A restaurant employees since 1973 via the Leadership Scholarship Program.
During the weekend, Jonesboro First Baptist Church reported to the public that Cathy's health had gotten worse and that he was likely to pass away soon.
"I'd like to be remembered as one who kept my priorities in the right order. We live in a changing world, but we need to be reminded that the important things have not changed," said Truett, according to a company statement.
"I have always encouraged my restaurant operators and team members to give back to the local community. We should be about more than just selling chicken, we should be a part of our customers' lives and the communities in which we serve."