Sadie Robertson and Mark Ballas Portray Adam and Eve on 'DWTS' Dynamic Duos Night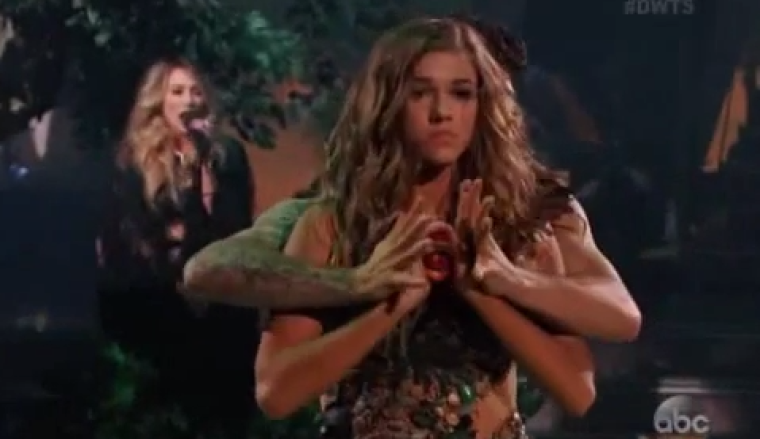 "Duck Dynasty" star Sadie Robertson showcased her Christian beliefs in a whole new way on "Dancing with the Stars" this week.
As part of Monday's "Dynamic Duos Night," Robertson and her "DWTS" professional dance partner Mark Ballas dressed as the Bible's first couple, Adam and Eve, in the Garden in Eden. The dancing duo were clad in decorative costumes that featured green leaves, and Robertson even held an apple which represented the fruit in the Genesis account. Since the start of the "DWTS" season, Robertson has been outspoken about her strong Christian faith. This week, the teen addressed the opportunity to portray Adam and Eve on the show.
"Because it's such an iconic story and it's a message from the Bible … I do feel pressure to make it right," she said, according to ABC.
Robertson and Ballas' contemporary performance as Adam and Eve was set to a cover of Alanis Morissette's "Uninvited." The incredibly creative and interpretive ode to the Biblical characters earned the dancers 38 out of 40 points from the judges.
"I absolutely loved it," said "DWTS" judge Julianne Hough speaking to Robertson and Ballas following the performance. "There was a maturity we haven't seen from you."
After the show, Robertson shared her gratitude with fans, writing on Twitter: "thank you everyone who watched and voted tonight! We are so thankful for y'all. Love every single one of ya."
Moreover, the teenager shared a photo taken backstage with members of her famous family, who star on A&E's "Duck Dynasty."
"Thankful for this support system of mine & thankful to everyone who watched & voted tonight," Robertson wrote in the caption. "Love you all & really appreciate y'all getting us through another week. We most definitely couldn't do it without y'all."
Meanwhile, Robertson is currently promoting her recently released book, Live Original: How the Duck Commander Teen Keeps It Real and Stays True to Her Values. In it, Robertson shares real-life experiences that helped strengthen her own confidence, praying that "many lives are touched" through the book.
"I pray people realize that they are a beautiful child of God, and become confident in that," she added of the book via Twitter. "So do not throw away your confidence; it will be richly rewarded (Hebrews 10:35 NIV)."
Watch Robertson's performance on "DWTS" here.