Sadie Robertson Sings on New Track With Anthem Lights (Watch)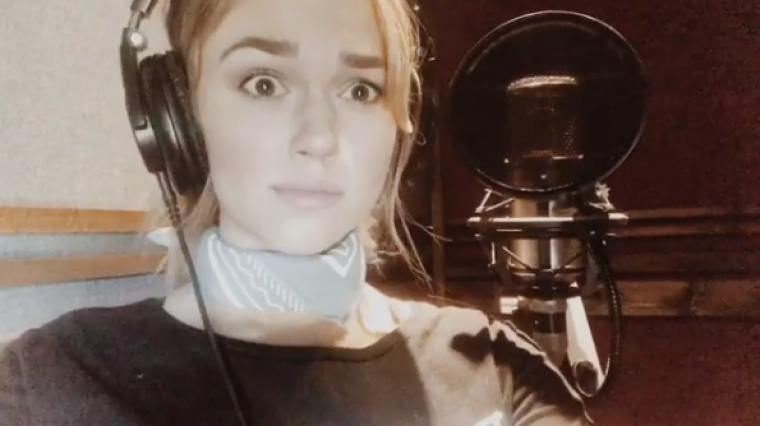 Sadie Robertson is adding recording artist to her resume.
The 20-year-old motivational speaker, who got her start in entertainment on the hit A&E reality TV series "Duck Dynasty," is teaming up with CCM band Anthem Lights to record a new song called, "Just Be You." Robertson took to Instagram Tuesday to preview a video for the song where she showcases her vocal chops.
"There will always be people talking," she sings in the video while the band plays a guitar and sings background. "Face your fears and chase your dreams and dance like no one's watching."
Robertson told fans about the collaboration last Friday when she posted an image from a recording studio and hinted about the song being featured on her upcoming Live Original tour.
"UM GUYS ... may or may not be recording a brand new song called 'Just Be You' with @anthemlightsband that we may or may not be performing on the @liveoriginal tour for the first time live," Robertson wrote on Instagram before making light of her nerves. "And I may or may not of peed my pants when they asked me to do this. #livefearless."
Robertson stepped outside of her comfort zone to record with Anthem Lights and previously told The Christian Post that she's found that following God's plans for her life is far better than making plans of her own.
"I used to plan what my life would look like, then I realized God will take you to so many bigger places than you can ever imagine. So why try to plan?" she asked. "My plan, although it may have been a good plan, it wasn't as good as the plan that God had for me. I would have never imagined I would be at the places I am today or done things that I've done today."
Later this month, Robertson's Live Original tour will be held in 16 cities nationwide. Guests who will join her on the tour include her older brother and author, John Luke Robertson, Anthem Lights, Jesus Culture's Chris McClarney, Christian hip-hop artist Steven Malcolm, and "American Idol" alumna Hollyn.
For more information about the tour, click here.