Sadie Robertson Huff, mom Korie talk sex, sin and harmful messages taught in the church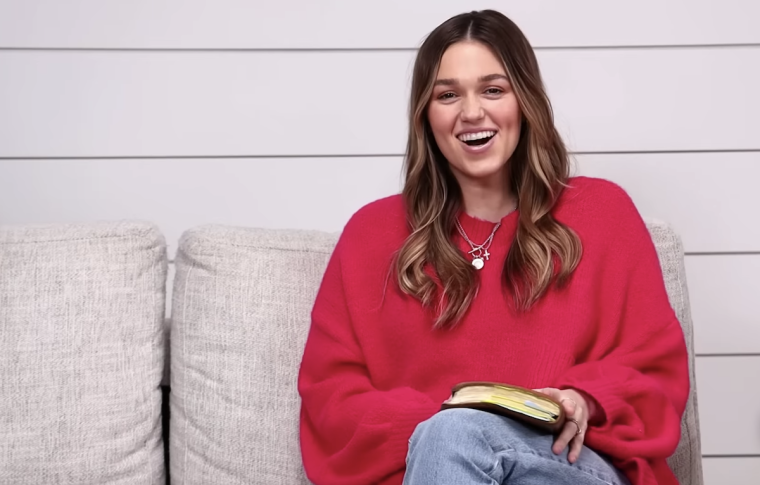 Sadie Robertson Huff of "Duck Dynasty" fame and her mother Korie Robertson discussed sex, marriage and what the Bible says versus "harmful" messages espoused in some churches.  
The mother-daughter duo told listeners in a Feb. 20 episode of the "WHOA That's Good" podcast titled "An Honest Conversation About Sex — What the Church Gets Wrong About Purity and Shame," that while sex tends to be a topic that few people want to discuss intimately with friends or family, it's a topic that seems to be promoted everywhere in society — the internet, TV, etc. 
"You can't really go through a day where you don't see something that's like overly sexualized. Whether it's on the internet, on social media, in a magazine, at a store that you see, in a song that you're listening to — especially if you're listening to any secular music right now, you're going to hear about sex," Sadie said.  
"It's always talked about and it's always out there. I just don't think it's talked about in such a way that's really talking about what it's meant to be and what it was designed to be because that's become a controversial thing."
Some people have been wrapped up in feelings of shame that sometimes stem from condemnation perpetuated by pastors and church leaders, she added. 
Far too often, Sadie continued, churches accept the notion that once Christians lose their virginity by having sex for the first time outside of marriage, they are permanently damaged goods. 
In these scenarios, she said, some leaders tell Christians who have sinned sexually that they have sinned in an unforgivable and irreversible way against not only God; but against their future spouse.  
"I believe that's a lie. Because I think that some of us think, 'oh, we've lost our purity because maybe we're not a virgin.' Or maybe you've already had sex with other people. But I believe under the blood of Christ all can become pure again," she added, emphasizing throughout the discussion that repentance and lifestyle changes must also happen. 
"God can restore that original idea and concept for sex in your life, whether you've had sex before or not. … I do think there have been many harmful things put out from the Church when it comes to sex. And if that's brought shame to your life, I just want to say that is not the message of Jesus." 
Many Christians hear about sex for the first time from the church, Korie noted, adding that the way some church leaders share a message about sex can potentially serve as a "harmful" way to drive people away from the Church and away from the Lord.  
"There may be ways that the church misrepresented God's Word. And I think that that does happen a lot and has happened. … I know a lot of people that have a lot of hurt because of things that were taught to them," Korie said. 
"Even if you grew up in Bible class or a Christian school, there may be things that were taught to you that actually aren't really what God's Word says. That is why we always want to go straight back to God's Word," she continued.  
"You can listen to a sermon or you can read a book, but … you really have to test and approve whether it's from God." 
There is a beauty that comes naturally when a person looks into God's perspective on sex, Sadie added, noting that The Bible has defined sex as God designed to be between a man and woman in the context of a biblically defined marriage relationship as noted in Genesis 1. 
"We abide by the same truth. And I think that what's so powerful about the Bible is that the truths do not change. … The idea for sex and marriage is the same idea we're talking about now, the same idea taught before Jesus [and] after Jesus," Sadie celebrated.   
"Culture's view of sex has changed a lot. It's continuing to change. … God's view of sex stands the test of time; that this is a good thing. There's blessing that comes from it, there's beauty that comes from it, there's sacredness and intimacy that comes from it. And it doesn't bring harm. It brings good. It brings life." 
Midway through the podcast, Sadie Robertson told viewers that she is "genuinely sorry" to anyone who has heard harmful analogies about sex and purity from the church. 
One analogy she heard Pastor Matt Chandler discuss seeing illustrated was the rose analogy. In a discussion about sex and marriage, Chandler shared on TikTok a visit to another church where the pastor, in a discussion about purity, held up a rose in front of the congregation and compared the flower to a virgin. 
Typically in these scenarios, the pastor continues the demonstration by telling the audience to to pass the rose around the crowd, she added. When the rose returns to the pastor on stage, he tells the audience to look at the damaged and defiled rose, comparing the flower to someone who is no longer wanted or desired because they are damaged.  
Pastors who use the rose analogy, she said, label people who've committed that sin as forever condemned and unforgivable in God's eyes. 
"That is taking away the power of the cross. That's like saying the cross is powerful enough for every other sin but that. Are you kidding me? The power of the cross can redeem all things," Sadie declared.