Sadie Robertson Wears Fan-Picked Costume on 'DWTS,' Earns Perfect Score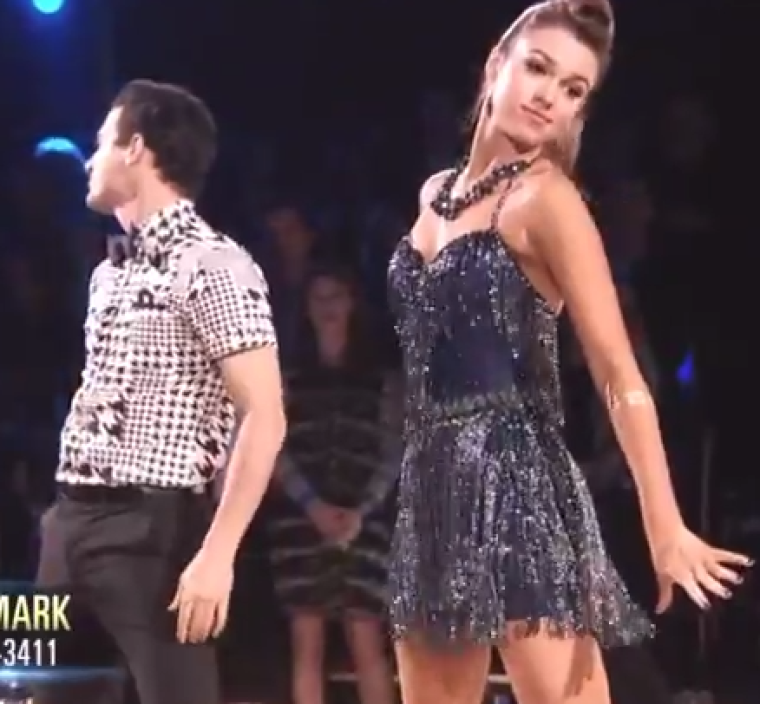 "Duck Dynasty" star Sadie Robertson earned her best score yet on "Dancing with the Stars" after America chose her costume and the dance style for Monday's show.
It was "America's Choice" on "DWTS" where voters on social media were able to choose the song, dance and costume for contestants this week. For their first dance of the night, Robertson and her professional dance partner Mark Ballas danced the jive to the song "1, 2, 3 Turnaround."
For the first time since the season began, Robertson donned a costume that featured thin shoulder straps, a plunging neckline and very short hemlines that revealed much of the model's legs. Despite the departure from her more modest costumes, Robertson's jive only earned the couple 33 points out of 40.
"It wasn't my favorite dance, but you have more coming up," said "DWTS" judge Julianne Hough.
Nevertheless, Robertson and Ballas made up for their jive with the Foxtrot. The pair was joined by "DWTS" professional Emma Slater, marking the first time a pro female danced alongside a female celebrity in a trio on the show. The three dancers received high praise from the judges' table and a perfect score of 30. Combined with the score from their jive, Robertson and Ballas earned a total of 73 points this week.
"Thank you @EmmaSlaterDance for dancing in our trio!! You are beautiful inside and out, and it was amazing getting to dance with you," Robertson posted to Twitter after this week's show.
Furthermore, Robertson took the time to thank God for her perfect "DWTS" score on Monday.
"Wow just truly blessed to be in the position I am and thankful to God for it all," she wrote. "May all the glory go to him. I'm so thankful to have all of the wonderful fans who have gotten me to this point [as] well. Each one of you is needed to take us farther. We are so grateful and love you all."
Watch Robertson's jive here, and the trio Foxtrot below.