Saeed Abedini's Wife Naghmeh Tells Congress She Cannot Bear Children's Crushed Hopes Any Longer, Says Only Jesus Is Helping Her Family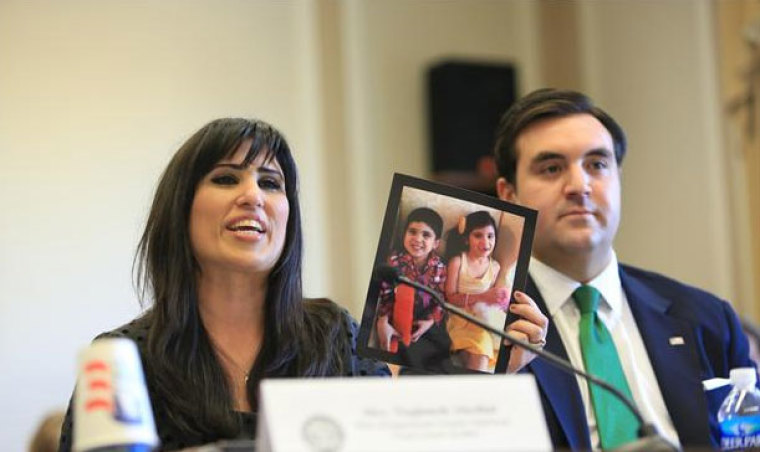 Naghmeh Abedini, the wife of imprisoned American pastor Saeed Abedini, is set to testify before the House Foreign Affairs Committee on Tuesday and urge Congress to free her husband, alongside representatives of the three other Americans wrongfully imprisoned in Iran. Abedini wrote in prepared remarks that she cannot bear any longer to tell her two children their father is still not home.
"I am here today as a single mother who is trying to be strong for her children, and as a wife who humbly admits, I need your help. I cannot bear to look at my children's longing eyes one more time and explain to them why their daddy is still not home. I cannot bear to see their hopes crushed again. I cannot imagine my husband spending yet another day in an Iranian prison. I need your help. I cannot do this on my own," Naghmeh Abedini said in her remarks.
Pastor Abedini has been in an Iranian prison since his arrest in 2012 while working on a non-sectarian orphanage project.
Despite worldwide campaigns organized by the American Center for Law and Justice and other groups, and despite President Barack Obama asking Iranian President Hassan Rouhani for Abedini's release, the pastor remains serving an eight year sentence for his faith.
Naghmeh Abedini has testified before Congress on a number of occasions, urging the U.S. government to do more to help her husband. She shared in her remarks that her family is under immense pressure, and it's only their faith in Christ that is keeping them strong.
"When you are living a nightmare no religion in the world can help you. The do's and don'ts of religion cannot bring much peace and comfort. Only an intimate relationship with our Maker can bring about the supernatural peace and strength that is covering our family today," the pastor's wife said.
"And that relationship is only possible through the acceptance of the heavy price of sin that was paid on the cross by Jesus Christ. Today that salvation is available for all who believe. Our family has relied on this personal relationship to endure the pains, and to overcome the daily worries and concerns.
The ACLJ, which represents Naghmeh Abedini and the couple's two children, said that its petitions calling for the pastor's release have reached 917,000 unique signatures.
"This overwhelming show of support is critical in the battle for his freedom," the law group said.
"We continue to fight for pastor Saeed's freedom before Congress, the State Department, the White House, and the global stage."
Naghmeh Abedini has also urged European leaders to stand up for human rights and press Iran for her husband's release.
She recently traveled to Europe and spoke separately with officials from the European Parliament, the Protestant Committee of the Christian Democratic Union and the Christian Social Union in Germany, the Federal Government Commissioner for Human Rights Policy, Christoph Strässer, and others.
Strässer backed Abedini's petition, and said in a statement following the meeting: "I call upon Iran to quash pastor Abedini's sentence — and the sentences of all those imprisoned merely on account of their religious belief — without delay," the commissioner said.
"Until he is released, I appeal to all those responsible in Iran to grant him urgently needed medical treatments, including outside the prison."