Samuel Rodriguez, Clergy, Condemn Pastor Who Says Christians Shouldn't Mourn Deaths of 'Sodomites'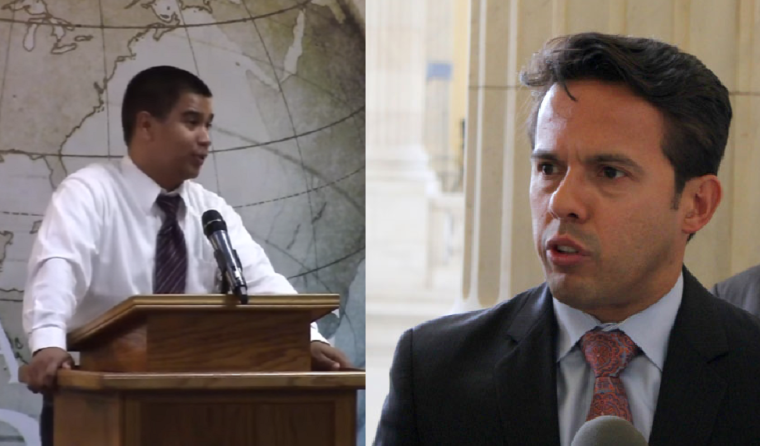 Religious leaders including the Rev. Samuel Rodriguez, president of the National Hispanic Christian Leadership Conference, have condemned a controversial sermon made by Pastor Roger Jiminez of Verity Baptist Church in California who declared Christians should not mourn the "sodomite" victims of the Orlando massacre.
"Today, people say aren't you sad that 50 Sodomites died? Here's the problem with that, it's like the equivalent of asking me … 'Hey, are you sad that 50 sodomites were killed today?' Ahh No. I think that's great. I think that helps society. You know, I think Orlando, Florida, is a little safer tonight. … The tragedy is that more of them didn't die. I mean the tragedy is, I'm kinda upset that he didn't finish the job," said Jiminez in a 45-minute sermon posted on YouTube.
On Sunday, now deceased gunman Omar Mateen used an assault rifle to kill 49 people and injure 53 more at a popular gay nightclub called Pulse in Orlando.
The shooting has elicited a number of reactions internationally but Jiminez's comments have been widely condemned in the media as bigotry.
In a joint statement Monday, Rodriguez and William Jessup University President John Jackson condemned Jiminez's sermon as "detestable."
"We stand resolved in our condemnation of the heinous attack that occurred in Orlando. We also condemn the detestable statements made by a pastor in Sacramento. The pastor's statements do not reflect genuine Christian faith, and as followers of Christ we disavow his bigotry," they said.
"It is the heart of Jesus to save, heal, and deliver. Christian leaders lead people to the love, grace, truth and healing hope of Jesus, not to insensitive judgment. We pray for the gay community to experience the love and grace of Jesus and His people, both in Orlando and across the United States. We pray for safety for their community and for all Americans during this violent and unsettled time," the statement continued.
The City Pastors Fellowship of Sacramento also condemned Jimenez's sermon.
"This past Sunday morning, there was a heartless and heartbreaking statement made by a Sacramento pastor to his congregation related to the shootings in Orlando. It was then posted online and broadcast on the nightly news. These comments, applauding the death of innocent people, are completely contrary to the Bible's teaching and God's heart," said the organization.
"His statements do not represent Jesus nor hundreds of Sacramento pastors whose hearts have been broken and are praying for the loved ones so tragically affected by this cowardly act. As Sacramento pastors, we are united in our prayers and sadness for those who have lost loved ones and for those even now fighting for their lives. May God's love prevail in this tragedy," the statement ended.
Preaching from both the books of Genesis and Romans in the Bible, Jiminez argued that gay people are predators who even God was forced to give up on in the Bible when he decided to destroy Sodom.
"I think he's trying to tell us … whenever you get a bunch of sodomites together and they rule an entire society this is the kind of stuff that happens. They are predators. Notice Genesis 19, look at verse 4 … remember God sends the angels in to Sodom cause He's bringing Lot out to destroy Sodom and Gomorrah.
"And the Bible' says in verse 4 'but before they laid out, the men of the city, even the men of Sodom compassed the house round, both old and young. All the people from every corner. And they called unto Lot and said unto him, where are the men which came unto thee this night? Bring them out unto us that we may know them. And lot went out to them and shut the door after him and said I pray you brethren do not so wickedly.'
"See the Bible paints this picture of the Sodomites being predators, and by the way, let me say this, every sodomite is a pedophile. Every single one. You know it's an unnatural sin. It's unnatural to want to be with someone of the same sex. It's unnatural to want to take advantage of a child."
According to CBS, local law enforcement said because Jiminez didn't specifically threaten anyone, his statements are considered to fall under First Amendment protections.