Santa Fe Shooting Suspect's Father Says His Son Was Likely Bullied, Is 'Victim'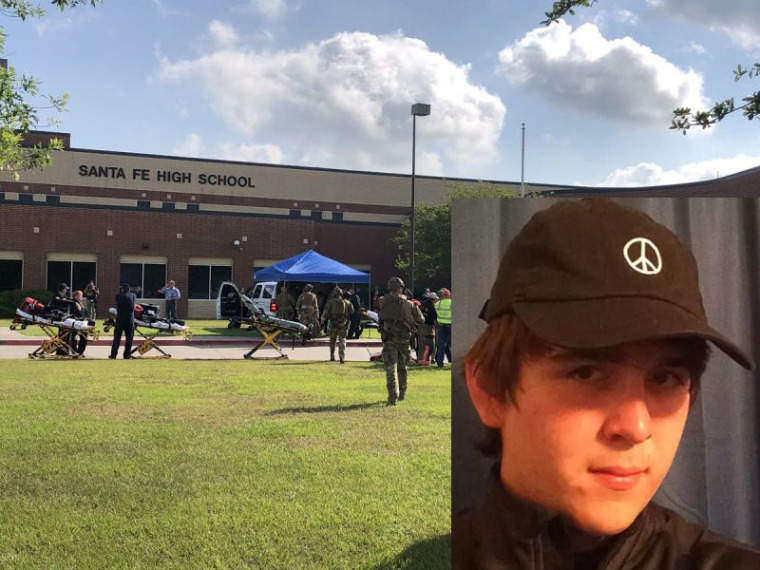 The teenager charged with shooting 10 people to death at a high school in Santa Fe, Texas, last week was a "good boy" who was bullied which is why he lashed out, his father says.
Antonios Pagourtzis said his son Dimitrios, who is being held without bond at the Galveston County Jail, was a "victim" as he was likely bullied, he said, according to The Wall Street Journal. "I believe that's what was behind" the shooting.
Dimitrios opened fire at the Santa Fe High School Friday morning, killing 10 people and wounding 10 others. He surrendered after the shooting although he had planned to shoot himself.
Dimitrios is currently on suicide watch, according to CNN. He has admitted to breaking into a classroom at the school, New York Post reported.
His father, who owns North American Marine Inc., a Houston-based shipping repair company, also spoke to Greece's Antenna TV.
"Something must have happened now, this last week," he told the station, according to the Time magazine. "Somebody probably came and hurt him, and since he was a solid boy, I don't know what could have happened. I can't say what happened. All I can say is what I suspect as a father."
He added, "He never got into a fight with anyone. I don't know what happened. I hope God helps me and my family understand. We are all devastated. It would have been better if he shot me than all those kids."
Antonios visited his son Saturday. "He could not look at me in the eyes. He is confused, can't remember what happened. He said he wants to apologize to his sisters. He said he'll be strong and help us see this through."
Antonios, said his family was shattered after they learned about the shooting. "I only went to grammar school. I left from my village in northern Greece when I was 12. I only had the clothes I wore and an extra pair of boots. This country treated us well. I worked hard and became a shipowner. I had three ships, which I sold. … Now our lives are shattered."
CNN reported that Harris County court records show Antonios was charged twice with misdemeanor assault in 1987 and 2012, although the charges were eventually dismissed. In 2012, he punched a man and "grabbed his face and hit his head on the ground causing his nose to bleed" for hurting dogs at his shop.
Dimitrios used a shotgun and .38 revolver which were legally owned by his father, and authorities found fake explosive devices in the suspect's home and a vehicle as well as in and around the school.