Sarah Palin to Address Liberty University Students at Final Fall Convocation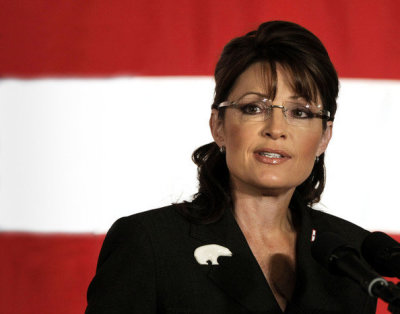 Sarah Palin, conservative Christian, former Alaska governor, and the nation's first female Republican vice presidential candidate, will be visiting Liberty University's Lynchburg, Va., campus on Wednesday, Dec. 4 as the evangelical school's final Convocation speaker for the Fall 2013 semester.
"While Governor Palin has visited Liberty's campus in the past, she has never appeared at a Liberty event. I am thrilled she will soon see why this university brings such hope to America," said Liberty University President and Chancellor Jerry Falwell, Jr., according to a school news service report shared with The Christian Post.
President Falwell, who will be introducing Palin at Convocation, added that he spoke with the former governor at the Rev. Billy Graham's 95th birthday celebration and the pair "spoke of our mutual anticipation for her upcoming visit."
Liberty University's Convocation, held from 10-11 a.m. ET, features throughout the school year guest speakers from various backgrounds and industries. Previous speakers have included Christian minister John Piper, business mogul Donald Trump, and NFL player Tim Tebow.
Wednesday's Convocation, featuring the Rev. Jonathan Falwell of Thomas Road Baptist Church as guest speaker, focused on the death of Liberty University freshman Joshua Hathaway. The Lubbock, Texas, teen was fatally shot Tuesday in a confrontation with a campus secuirty officer at a dormitory building.
Streaming video of Palin's entire Convocation appearance will be available at www.LibertyChannel.com.
Palin, who during her failed 2008 White House run with Sen. John McCain, described herself as a "Bible-believing Christian," recently released Good Tidings and Great Joy Protecting the Heart of Christmas. In the book, Palin "calls for bringing back the freedom to express the Christian values of the season," according to publisher Harper Collins.
"She asserts the importance of preserving Jesus Christ in Christmas — in public displays, school concerts, pageants, and our expressions to one another other — and laments the over-commercialization and homogenization of Christmas in today's society," the description adds, also citing the inclusion of Palin's "personal memories and family traditions."
The former Alaska governor was in the news this week for canceling a scheduled interview with NBC journalist Matt Lauer due to graphic and critical comments made about her on Nov. 15 by MSNBC host Martin Bashir. Bashir, responding to Palin's comparison of United States indebtedness to China to slavery, suggested someone should urinate or deficate in the politician's mouth and called her "America's resident dunce." Bashir has since apologized for his statements. MSNBC has remained mum about taking any disciplinary action against the host for his remarks, which Palin has called "violent and hateful rhetoric."