Sarah Sanders Defends Her Faith and Working for Trump: 'We're All Sinners, That Is Christianity'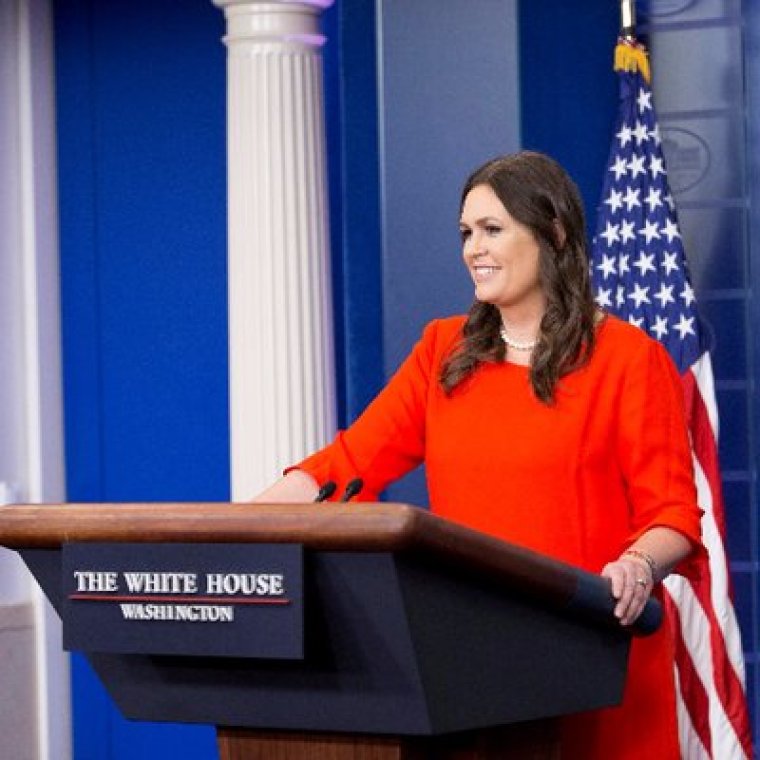 White House Press Secretary Sarah Huckabee Sanders has defended her work for U.S. President Donald Trump as a Christian, insisting that the basis of the faith is that "we are all sinners." 
Sanders made the comments in a detailed profiled in The New Yorker, a hard copy of which is due to be published next week.
The in-depth piece looks at the press secretary's upbringing, including being the daughter of former governor of Arkansas and pastor Mike Huckabee.
It points out that she and husband Bryan, along with their children, attend an evangelical church in Washington D.C. that is an affiliate of the Hillsong megachurch.
"I believe in the Bible," Sanders said, explaining that one thing that is "non-negotiable" for her are her pro-life views.
"One of the things that makes Americans unique is that we value life. We think each life has intrinsic value and worth, whether you are a baby in the womb or an elderly woman," she argued.
Sanders was asked how she reconciles her religious beliefs with working for Trump, who has received both praise but also strong criticism from  Christians on a variety of issues. Controversies that have dogged him include accusations that he committed adultery with a porn star and a Playboy model.
"I'm not going to my office expecting it to be my church. Frankly, if people of faith don't get involved in the dirty process, then you're missing the entire point of what we're called to do. You're not called to go into the places where everyone already thinks like you and is a believer — you have to go onto a stage where they're not," Sanders said in response to a question about the porn star allegations.
"You have to take that message into the darkest places, and the dirtiest places, and the most tainted and dysfunctional places. If you can influence even one person, that's what you're supposed to do," she added, clarifying that she is broadly talking about her social duty as a Christian.
When it comes specifically to Trump and the views of many Americans that he needs the most help, she said, "We all need help."
Sanders added: "That's the whole basis of Christianity. No one is perfect. We are all sinners."
In a Tuesday morning tweet about the article, The New Yorker noted that Sanders' church is affiliated with Hillsong, which teaches creationism, or the belief that God created the universe.
"Sarah Huckabee Sanders attends a D.C. church that is an affiliate of Hillsong, the global megachurch that teaches creationism and intelligent design. Sanders, asked if she shared these views, said, 'I believe in the Bible,'" The New Yorker tweeted. 
The label "creationism," however, is sometimes used to identify young-Earth creationists, who believe the Earth is less than 10,000 years old, a view not espoused by Hillsong.  
The AND Campaign's Michael Wear, an evangelical who worked in the Barack Obama administration, criticized The New Yorker's tweet. 
"Whatever gets clicks, I guess. Filing this away for the next time I'm asked about evangelical support for Trump," he wrote. 
In a second tweet, he noted that Ken Ham, a young Earth creationist, had criticized Hillsong, adding mockingly, "Because when I think Hillsong, I think *checks notes* Ken Ham?" 
Trump continues to have a complex relationship with Christians, in particular evangelicals, though he has received praise from notable leaders.
Back in August, First Lady Melania Trump hosted a state-like dinner at the White House, where evangelical leaders gave her and President Trump a signed copy of the Bible.
The copy of the Bible, presented by Trump's spiritual adviser Paula White-Cain, was signed by over 100 Christians and evangelicals that said that they "love" and "pray" for the president.
"Thank you for your courageous and bold stand for religious liberty, and for your timeless service to all Americans. We appreciate the price that you have paid to walk in the high calling. History will record the greatness that you have brought for generations," read the message from the evangelical leaders.
Others, such as Roger E. Olson, professor of Christian Theology of Ethics at George W. Truett Theological Seminary at Baylor University in Waco, Texas, have warned evangelicals that Trump will "turn on them in a moment," however.
He said that those who "lionize" Trump and compare him to the biblical Cyrus believe that he was "raised up by God to reverse the trend in American culture toward total decadence and hedonism."
"Personally, speaking only for myself, I believe President Trump only cares about power. I have not seen any real principles — other than 'Make American great again' (with an implied 'and me, too')," Olson warned.
"I strongly suspect that he is manipulating his conservative Christian 'base' and would turn on them in a moment if it suited his agenda to be powerful."