SC High School Reverses Ban on American Flags at Football Games Amid 'Uproar' From Community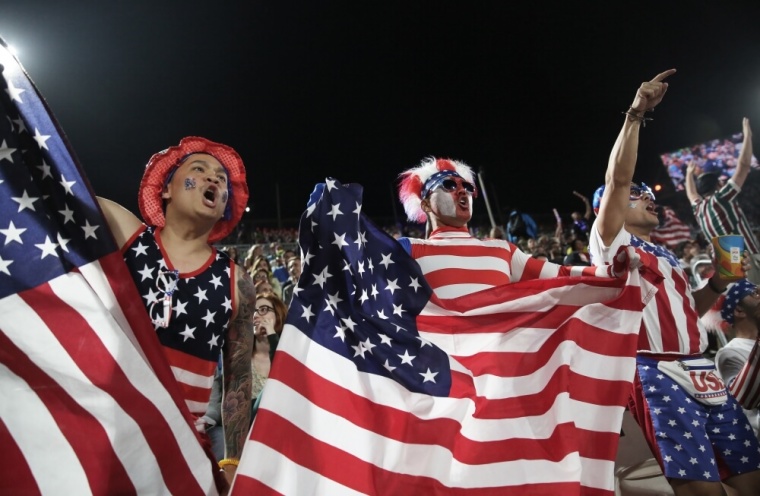 A high school in South Carolina that barred students from bringing American flags to sporting events after they were allegedly used to taunt Hispanic students from another school, has since reversed its decision.
Local news station WNCN reported earlier this week that Travelers Rest High School Principal Lou Lavely had decided to bar students from bringing the U.S. flag to football games, because some students were accused of taunting Hispanic students from Berea High as the two schools competed against each other on Friday night.
"Any decision to not allow the American flag to be used in an improper 'taunting,' unsportsmanlike manner is first and foremost in the interests of promoting the safety and well-being of all in attendance at school events," Lavely explained in his statement on Saturday.
"This decision would be made anytime that the American flag, or any other symbol, sign, cheer, or action on the part of our fans would potentially compromise the safety of all in attendance at a school event."
He insisted that he has "the utmost respect for our flag," but argued that using it to display unsportsmanlike behavior is in itself "improper and disrespectful to our flag."
Greenville Online reported that on Monday, Lavely reversed his position following an 'uproar' from members of the community. Students will now be allowed again to bring American flags at all sporting event.
Beth Brotherton, Greenville County Schools spokeswoman, explained that Lavely did not ban the U.S. flag because he felt it could be offensive to the Hispanic community, but specifically because it was being used by some students, in addition to verbal taunts, to target Hispanic students.
Alivia Waynick, a senior at Travelers Rest, affirmed that school administrators had initially sought to implement the ban. Waynick had tried to bring her U.S. flag to Travelers Rest's first home game of the season, but was told by school officials she can't have the flag with her.
"An administrator walked up behind me and said 'No American flags,' and I asked why and they said 'because it could offend someone," the student revealed. "When they told me I had to put it away, I respected their authority and I took my flag and put it up."
Brotherton said that the ban no longer applies, however.
"Instead of restricting possession of the flag, the TRHS administration will, if needed, address the misuse of the flag, or any other inappropriate behavior, on an individual basis," she explained.
Schools Superintendent Burke Royster defended Lavely's decision, and praised his willingness to respond to the community's concerns.
"I am appreciative of the Travelers Rest High School community for sharing its concerns and opinions on this matter in a respectful, civil manner," Royster said in a statement.
"I also appreciate and applaud their desire to promote patriotism and service as a part of the culture of their school and am in agreement that students' desire to carry and display the American flag should be encouraged and supported throughout the district."
The U.S. flag has previously been banned in other forms in American high schools over sensitivity issues, with a California school deciding back in 2010 to prohibit T-shirts with the American flag worn by students on Cinco de Mayo.
The case concerned a group of Caucasian students at Live Oak High School of the Morgan Hill Unified School District, who decided to wear such clothing during the school-wide observance of the Hispanic celebration, which school officials deemed would cause tensions within the racially diverse school.