SC Restaurant Boots Out Party of 25 Black Customers in Rain Because White Patron Felt Threatened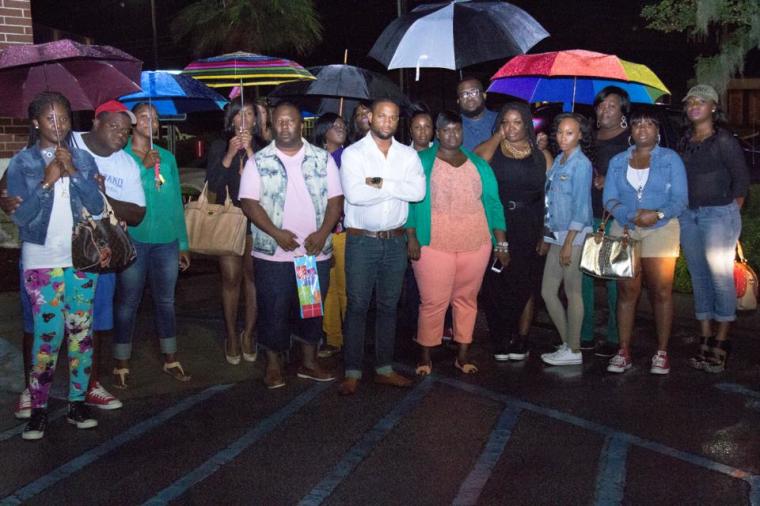 After waiting patiently for two hours to be seated, a group of 25 black family members and friends were recently booted out in the rain from a Wild Wing Café in North Charleston, S.C., because a white customer felt threatened by their presence.
News of the incident, which is now spreading on social media, was first made public via a Facebook post on Aug. 22 after the company failed to respond to a complaint made on behalf of the offended customers three weeks ago.
"I will never go to Wild wings cafe in N. Chs again! We (Party of 25 family and friends) waited 2hrs, patiently and were refused service because another customer (White) felt threatened by us," noted Mike London in the Facebook post. "This type of racial discrimination is unacceptable and we have to put a STOP TO IT. The manager looked me dead in the face and said she was refusing us service because she had a right to and simply she felt like it. DO NOT SUPPORT THIS ESTABLISHMENT... PLEASE SHARE THIS POST…We need your help," the post continued.
The post was quickly followed up with a telling photo of the group standing outdoors shielding themselves from the rain with umbrellas.
In an interview with WNEM about the incident last week, Michael Brown said the group was celebrating a going away party for his cousin when the shift manager of the restaurant approached them and told them that there was a "situation."
"She said there's a situation where one of our customers feels threatened by your party, so she asked us not to seat you in our section, which totally alarmed all of us because we're sitting there peaceably for two hours," Brown told WNEM. "Obviously, if we were causing any conflict, we would have been ejected out of the place hours before," he noted.
He explained that during his conversation with the manager, a member of the celebrating party decided to record what was happening and the manager responded by refusing to seat them entirely.
"I asked her I want to be clear with you," said Brown. "I said so you're telling me I have to leave. She said I have a right to deny you service. I said so you're asking me to leave because you're upset because he was recording you, after we've waited for two hours, and after you've already pretty much discriminated on us, and she answered 'yes.'"
Since the matter became public, however, the company has been facing public scorn and has responded to the incident a number of times.
"With regard to the ongoing discussion about a customer complaint, we at Wild Wing Cafe are completely aware of the fact that we dropped the ball in communicating swiftly to a loyal customer. We take full responsibility for our lapse in response time, had the opportunity to call back and have no excuses for not doing so in 3 weeks," noted the company in a post on their Facebook page on Aug. 24.
"We have never tolerated racism from our employees and won't tolerate it on our Page either. Our biggest concern has always been our customers and our staff. We have always insisted on hearing all sides to an issue and treating people with respect... and this time is no different," it continued.
In a follow-up post on Sunday, the company further noted that they are now conducting a thorough investigation into the incident while apologizing again.
"We are conducting a thorough investigation and are taking the appropriate action. In the meantime, we are in regular and productive conversation with the individuals and we hope to keep all involved fans and friends of WWC," the company noted.
"We realize these are topics that engender emotional reactions. We truly believe that actions speak louder than words and we hope all are open to let ours speak for us as we move through this situation. We are committed to not repeat the mistakes that have been made and to make sure anybody who walks in the doors of WWC is treated with love, respect and care," it said.