Scandal Scarred Anthony Weiner Now Second in Race for NYC Mayor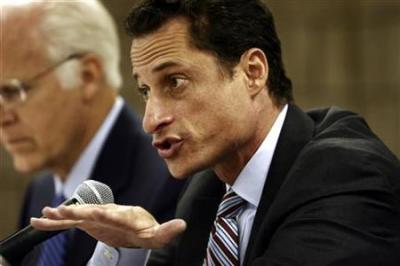 Two years after a sexting scandal forced him to resign from Congress and toppled him from his frontrunner position in the race for New York City's mayoralty, Democrat Anthony Weiner is now the closest rival to the leading candidate in that race, the city's openly lesbian Council Speaker Christine Quinn.
Results of an NBC New York-Marist poll released on Tuesday show that if the Democratic primary for the mayoralty was held now, 15 percent of registered Democrats would choose Weiner, just 11 percent behind Quinn who attracted the support of 26 percent of respondents to the poll. Quinn would be the city's first female and openly lesbian mayor if she wins.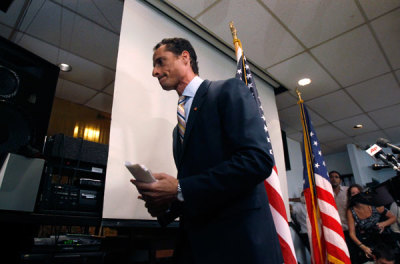 Weiner is three percentage points ahead of the next closest challenger, City Comptroller, John Liu while contenders Public Advocate Bill de Blasio and former City Controller Bill Thompson are tied at 11 percent each. Some 22 percent of Democratic voters were undecided when asked the question.
"Right now, a Weiner candidacy attracts double-digit support in the Democratic primary," said Dr. Lee M. Miringoff, director of The Marist College Institute for Public Opinion in the report on the poll. "He makes it even more difficult for any of the Democratic contenders to reach the needed forty percent to avoid a run-off."
Indeed, when the same question was asked without Weiner in the line-up, however, it demonstrated just how much of an impact Weiner's decision to run or not might impact the race. Quinn gained four percent on her lead to register 30 percent support and de Blasio jumps to second place with 15 percent of the votes while Thompson follows a close third with 14 percent. Liu drops to fourth with 11 percent and the number of undecided voters increases to 26 percent.
In a recent ABC News report, political strategists noted that Weiner, who was pressured by Democrats to resign for tweeting lewd photos of himself to women and denied he did before coming clean to the public, could make a comeback and win New York City's mayoralty.
"People are much more forgiving of errors relating to sex than those relating to money," Mitchell Moss, a longtime New York political analyst and professor at New York University, told ABC. "He can run as the outsider."
"Bill Clinton made it very acceptable for elected officials to have a second chance. The great legacy of Bill Clinton is that he's really given every elected official the chance at forgiveness," added Moss.
Weiner who resigned from Congress in 2011, reclined from the limelight after the scandal broke. In recent weeks, however, he has been taking steps, with his wife, Hillary Clinton aide Huma Abedin, to return to politics.
This month, he pondered in a New York Times Magazine interview about his political future.
"I don't have this burning, overriding desire to go out and run for office," said Weiner. "It's not the single animating force in my life as it was for quite some time. But I do recognize, to some degree, it's now or maybe never for me, in terms of running for something. I'm trying to gauge not only what's right and what feels comfortable right this second, but I'm also thinking, how will I feel in a year or two years or five years? Is this the time that I should be doing it? And then there's the other side of the coin, which is … am I still the same person who I thought would make a good mayor?"
He then asked voters for another shot at public service. "… I want to ask people to give me a second chance. I do want to have that conversation with people whom I let down and with people who put their faith in me and who wanted to support me. I think to some degree I do want to say to them, 'Give me another chance.'"
The poll was conducted via telephone with 1,127 New York City adults from April 11-15. The margin of error among Democrats was plus or minus 4.2 percentage points.