Scholars, Univ. Presidents Criticize Feinstein for Bigoted Questions, 'Religious Test' of Judicial Nominee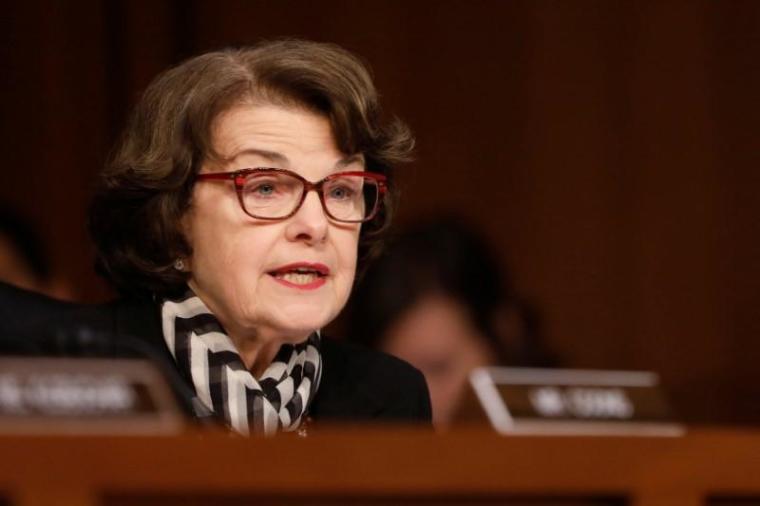 Senator Dianne Feinstein is coming under criticism from prominent academics and university leaders for her "chilling" line of questioning of a Roman Catholic judicial nominee last week during a Senate hearing.
Amy Coney Barrett, who is a law professor at the University of Notre Dame, was nominated by President Trump for a seat on the United States Court of Appeals for the Seventh Circuit and during her hearing last week several Democratic senators, most notably Dianne Feinstein of California, brought up the subject of her faith.
"Dogma and law are two different things," Feinstein said Sept. 6 during Barrett's hearing. "And I think whatever a religion is, it has its own dogma. The law is totally different. And I think in your case, professor, when you read your speeches, the conclusion one draws is that the dogma lives loudly within you, and that's of concern when you come to big issues that large numbers of people have fought for years in this country."
Feinstein subsequently clarified to National Review that the "big issues" she was referring to were abortion rights. Democratic Senators Dick Durbin of Illinois and Mazie Hirono of Hawaii also raised questions of similar nature. Durbin asked Barrett if she considered herself an "orthodox Catholic" and Hirono intimated that Barrett would apply Catholic moral teaching to decide cases.
But the "dogma lives loudly" bit particularly upset Catholics, and inspired a #DogmaLivesLoudly tweetstorm, given the well-documented history of anti-Catholic animus in the United States.
"It is chilling to hear from a United States Senator that this might now disqualify someone from service as a federal judge," wrote John Jenkins in a letter to Feinstein Saturday. Jenkins is both a priest and the president of the University of Notre Dame.
"I am one in whose heart 'dogma lives loudly,' as it has for centuries in the lives of many Americans, some of whom have given their lives in service to this nation," he continued.
"Indeed, it lived loudly in the hearts of those who founded our nation as one where citizens could practice their faith freely and without apology."
Similarly, on Friday, Princeton University President Christopher Eisgruber also wrote to Feinstein in defense of Barrett, saying, "The questions directed to Professor Barrett about her faith were not consistent with the principle set forth in the Constitution's 'no religious test' clause."
As challenging as it is to probe a potential judge's judicial philosophy, the Senate must do so "without reference to the religious affiliation or theological views of a nominee, and Article VI insists that the Senate observe that restriction," he said.
Harvard Law School professor Noah Feldman noted Monday in a BloombergView column that Feinstein's tack was outrageous.
"If a Catholic senator had asked a Jewish nominee whether she would put Israel before the U.S., or if a white senator had asked a black nominee if she could be an objective judge given her background, liberals would be screaming bloody murder. Feinstein's line of questioning, which was taken up by other committee Democrats, is no less an expression of prejudice," he said.
"The solution here is for Feinstein to do what other public officials have done when they've expressed bias: She should acknowledge that her questions resonated with historic anti-Catholicism, retract them and apologize."
Feinstein's remarks come on the heels of another exchange from earlier this year where Vermont Senator Bernie Sanders interrogated Russell Vought about the specifics of his evangelical Christian faith during his Senate hearing regarding his nomination to be the deputy director of the Office of Management and Budget.
Vought, a graduate of Wheaton, had written a blog post in which he defended the historic Christian teaching that Jesus is the only pathway to salvation and that Muslims "stand condemned" by rejecting Christ. Vought's words were published on the Resurgent and were in response to the controversy surrounding then Wheaton Political Science Professor Larycia Hawkins who asserted that Muslims and Christians worship the same God.
Sanders refused to support Vought's nomination, calling his religious views "indefensible" and "hateful."
"This is why Democrats lost in 2016. It's why we didn't deserve to win on our own merits in 2016," said Michael Wear, an evangelical Christian and a former Obama White House official who called the hearing exchange "pathetic" on his Facebook page at the time.
"And it's why we're on track to lose again in 2018. I remember when Democratic leadership used to speak out against using religion as a weapon."