Scientists Make Genetic Discovery That Could Treat Down Syndrome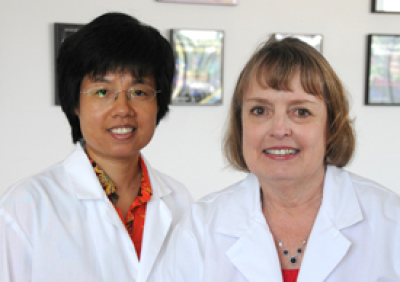 University of Massachusetts Medical School scientists announced on Wednesday that they have identified a natural "off switch" for the X chromosome making it possible to explore treatment for Down syndrome, a genetic disorder caused by the presence of an extra X chromosome which results in cognitive impairment.
In a report on a study of the subject posted on the medical school's website, they noted that they are the first to establish the "off switch" for the X chromosome and highlighted that it provides the first clues that the genetic root of Down syndrome can be suppressed in vitro.
"The last decade has seen great advances in efforts to correct single-gene disorders, beginning with cells in vitro and in several cases advancing to in vivo and clinical trials," said lead author Jeanne B. Lawrence, professor of cell & developmental biology. "By contrast, genetic correction of hundreds of genes across an entire extra chromosome has remained outside the realm of possibility. Our hope is that for individuals living with Down syndrome, this proof-of-principal opens up multiple exciting new avenues for studying the disorder now, and brings into the realm of consideration research on the concept of 'chromosome therapy' in the future."
According to the report, the finding now makes it possible for translational scientists to study Down syndrome in ways once impossible.
Down syndrome is the most common genetic birth defect, and affects about one in every 800 babies.
"Determining the underlying cell pathologies and gene pathways responsible for the syndrome has previously proven difficult, because of the complexity of the disorder and the normal genetic and epigenetic variation between people and cells," noted the report.
With the help of her colleague, Jun Jiang and others, Lawrence was able to compare otherwise identical cultures of Down syndrome cells, with and without expression of the extra chromosome.
"What they showed is that the Down syndrome cells have defects in cell proliferation and in neural cell differentiation, both of which are reversed by silencing one chromosome 21 by XIST," explained the report.
"This highlights the potential of this new experimental model to study a host of different questions in different human cell-types, and in Down syndrome mouse models," said Lawrence. "We now have a powerful tool for identifying and studying the cellular pathologies and pathways impacted directly due to over-expression of chromosome 21."
"Dr. Lawrence has harnessed the power of a natural process to target abnormal gene expression in cells that have an aberrant number of chromosomes," noted Anthony Carter of the National Institutes of Health's National Institute of General Medical Sciences, which provided some support for the study.
"Her work provides a new tool that could yield novel insights into how genes are silenced on a chromosomal scale, and into the pathological processes associated with chromosome disorders such as Down syndrome," he added.
"In the short term the correction of Down syndrome cells in culture accelerates the study of cell pathology and translational research into therapeutics, but also for the longer-term, potential development of 'chromosome therapies,' which utilize epigenetic strategies to regulate chromosomes," said Lawrence.
"Since therapeutic strategies for common chromosomal abnormalities like Down syndrome have received too little attention for too long, for the sake of millions of patients and their families across the U.S. and the world, we ought to try," said Lawrence.