Second Dallas Healthcare Worker Who Cared for Thomas Eric Duncan Tests Positive for Ebola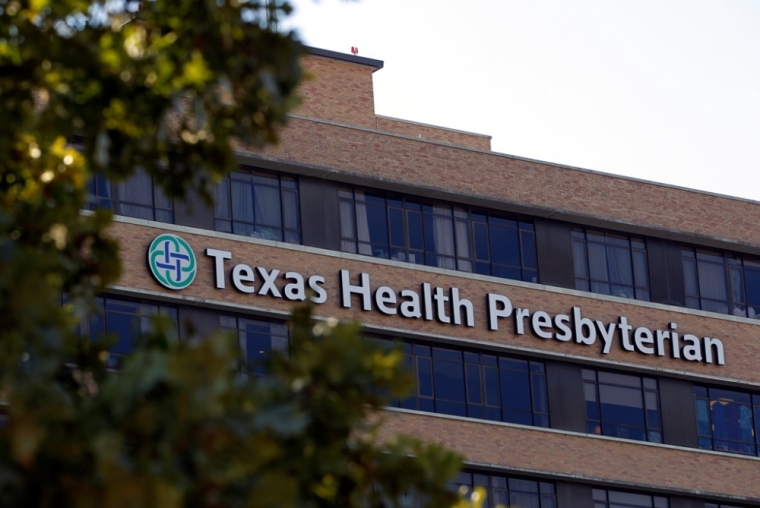 UPDATE: 11:30 a.m. Oct. 15
The second nurse to contract the Ebola virus from Thomas Eric Duncan is being identified as 26-year-old nurse Amber Vinson, 26, who is in isolation at Texas Presbyterian Hospital, according to WFAA-TV.
The Centers for Disease Control confirmed Wednesday morning that Vinson was a passenger on Frontier Airlines Flight 1143, which flew from Cleveland to Dallas-Fort Worth on Monday — the day before she reported symptoms. The CDC is contacting all passengers as a precaution and is asking them to call 1-800-CDC-INFO.
UPDATE: 8:07 a.m. Oct. 15
Dallas Mayor Mike Rawlings and Dallas County Judge Clay Jenkins confirmed early Wednesday morning that the second healthcare worker whose inital test results confirm that she has contracted the Ebola virus lives alone and doesn't own any pets. She's among 77 healthcare workers at Texas Health Presbyterian Hospital who've been self monitoring their temperatures and other possible symptoms after caring for Thomas Eric Duncan, who died at the hospital from Ebola on Oct. 8.
A second healthcare worker who had direct contact with Liberian national Thomas Eric Duncan at Texas Health Presbyterian Hospital in Dallas has contracted the Ebola virus, according to the Texas Department of State Health Services.
The healthcare worker, a woman who hasn't been identified, reported a fever Tuesday and was immediately isolated at the hospital, according to a news release. She's been able to communicate with state and federal oficials as they try to identify how the virus was transmitted to her at the hospital, and to find out the number of people she was in direct contact with when she started exhibiting symptoms.
If the CDC confirms the initial test results, the healthcare worker will be the second person to contract the virus within the United States. The preliminary Ebola test was conducted Tuesday at the state public health laboratory in Austin, and results were received at midnight.
"Health officials have interviewed the latest patient to quickly identify any contacts or potential exposures, and those people will be monitored," the department said.
The healthcare worker was among the medical team who cared for Duncan after he was diagnosed with Ebola, though she worked a different shift than 26-year-old nurse Nina Pham, whose condition was upgraded from stable to good on Tuesday. Duncan, the first person in the U.S. diagnosed with the virus, received treatment for 11 days in an isolation unit at the hospital. He died at Texas Health Presbyterian Hospital on Oct. 8.
Dr. Thomas Frieden, director of the CDC, said during a Tuesday news conference that a response team is at the hospital helping to facilitate care of Pham and any other medical staff or local residents who contract the deadly virus.
"I wish we had put a team like this on the ground the day the first patient was diagnosed," Frieden said. "That might have prevented this infection."
The CDC team, Frieden added, will be helping to improve infection control in the isolation unit where Pham and her colleague are receiving treatment. He also announced that the CDC is organizing other response teams that can go anywhere in the U.S. to aid hospitals that are treating Ebola patients.
"We've sent the CDC's most experienced staff — people who've worked on Ebola outbreaks for decades, people who've stopped Ebola outbreaks in very difficult situations in Africa," he explained. "Leading experts in the world of laboratory science, infection control and hospital administration."
Three of the immediate enhancements, Frieden explained, include ensuring that a site manager is at the hospital every hour of the day to oversee aspects of infection control.
Second, to provide enhanced training, which includes oversight by two nurses from Emory University Hospital who have cared for Ebola patients. And third, recommending that the number of staff who provide care is limited, "so they can become more familiar and systematic in putting on and taking off of protective equipment and become more comfortable with providing care in the isolation unit," he added.
The Village Bend East apartment complex in Dallas where the healthcare worker lives has been blocked off by police and fire department officials to conduct phase one of the decontamination process on the exterior of the apartment.
A HazMat team from Haltom City, Texas, will conduct the second phase of decontamination of the interior of the apartment.
Dallas Mayor Mike Rawlings and Dallas County Judge Clay Jenkins will be holding a news conference at 7 a.m. CT to provide more information about the second Ebola patient.