Selena Gomez Releases Video Diary Featuring Pre-AMA's Prayer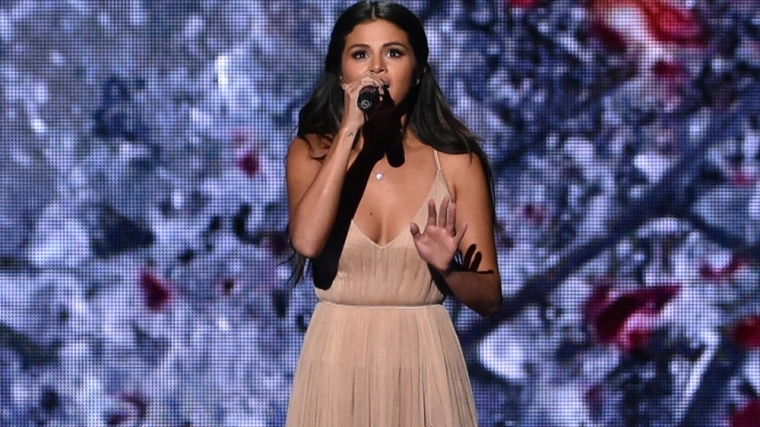 Selena Gomez offered a deeper look at her emotional American Music Awards performance last month with a video diary released on Monday.
The former Disney star attended the awards show on Nov. 23 where she delivered a powerful rendition of her latest single, "The Heart Wants What It Wants." The performance ended with Gomez mouthing "Thank you Jesus" before shedding tears on stage. Today, the singer is sharing more about the Justin Bieber-inspired song and the important tear-jerking performance. The five minute-long video starts with the preparation for the performance where Gomez reveals her anxiety.
"On the day, it'll be such a release, I'm just excited that people everywhere who are feeling what I feel will get to see that and I just want people to be able to relate to that," she revealed in the video diary for Entertainment Tonight.
Furthermore, Gomez described the performance as "frightening" because her intention for it was to reveal more of herself to her fans.
"When I had the intention behind the performance, I knew that I wanted it to be all of me, because somebody asked me a while ago, 'What's the one thing you wish people knew about you?' And I said I wanted it to be my heart," the singer told the camera.
Just before hitting the AMA's red carpet, Gomez added, "Everybody is there and all glamourous but then I gotta be all emotional; it feels like a lump in my throat."
Then, when the time came to take the stage at the awards show, Gomez rounded up her team and bent her head in prayer during the diary clip.
"And we give this night to You for Your glory in Jesus name," Gomez's manager led in prayer before the singer herself declares "amen."
It comes as no surprise that the singer offered up a prayer ahead of her career-defining performance. Gomez has been very vocal about her faith and was recently spotted at Hillsong church. Watch the video diary here.