Selena Gomez Shares Tearful Testimony at Hillsong Conference: 'I Am Enough, I'm a Child of God' (Video)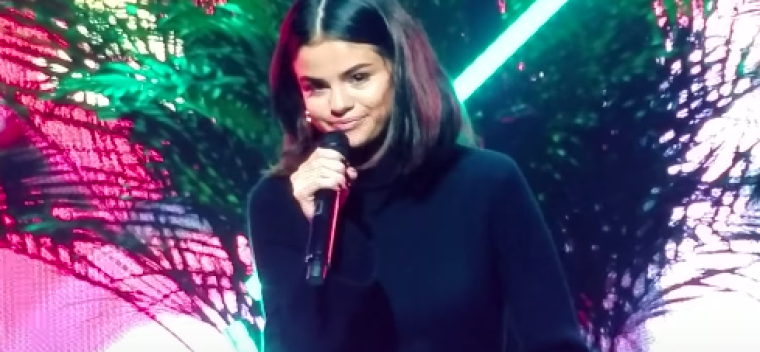 Pop star Selena Gomez attended this year's Hillsong Conference alongside her longtime love interest Justin Bieber. And while there the singer emotionally shared her journey to true faith in Jesus Christ in the form of a testimony written as a letter to herself.
Hillsong Church often attracts the attention of many A-list celebrities like Gomez and Bieber. During a recent conference held in Los Angeles on Nov 2–4 in the Microsoft Theater, the 25-year-old "Wolves" singer shared a letter she wrote to herself. The note details her life from when she was a child up until now.
"You already have faith but you have no idea what you have faith in," Gomez said of herself at 15 years of age. "You are already being pursued by God who knit you together and called you His, but you still don't know that this can be more than a nightly prayer, you don't know that this will become the most important relationship, but just wait."
The former Disney Channel actress admitted that as her fame increased, it became "extremely painful" and confusing to live out her mistakes in front of the world. She said she gave every last ounce of herself to the people around her and on stage but it was never enough.
"You will feel like you lost everything but know that this is to gain the very things that He has for you," Gomez told her young self in the letter.
Gomez, who recently overcame a life-treatening battle with lupus maintained that the stage and her platform were just tools to help her get to her purpose.
"You will learn that your truest identity is loved and chosen, as the chosen daughter of God," she continued.
"Eight years later, you will be sitting in a service and everything within you will shift. The God that has been pursuing you all along will feel tangible. The Holy Spirit will speak louder than anything that has called for your attention."
Gomez and Bieber have recently rekindled their relationship but their past romance played out in the public eye from 2011 to 2015. During that time, Gomez checked herself into a rehabilitation center for her mental sanity. Soon after, she says she came to a true relationship with Jesus.
"On your 23rd birthday, Jesus will become real to you," the Texas native testified. "More than a nightly prayer, more than the strength of your friends, more than the name in a devotional, He will become real."
Gomez went on to say that she then learned that pleasing people is not her purpose. She realized that if she walks faithfully in front of others they would know that God is enough to help them as He did her.
The YouTube clip of Gomez sharing her story ends with a very powerful declaration that the pop singer spoke over herself in front of the thousands in attendance.
"Selena, you are enough! Not because you've tried hard, not because you have loved hard or put on your best face, not because you have been given a large platform and not because others tell you 'you are enough,'" she declared. "You are enough because you are a child of God who has been pursued from the very beginning. You are enough because His grace has saved you and covered you."
In the United States, Hillsong is recognized for its thriving congregations, including Carl Lentz's church in New York. Worldwide, the ministry reaches over 100,000 people weekly. Gomez is a faithful attendee of Hillsong and has even led worship with the church in the past.