Selena Gomez Thanks TD Jakes for Inspiration After Attending His Church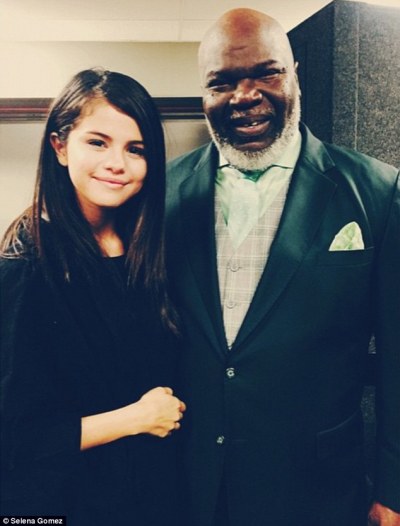 Singer Selena Gomez has apparently turned to her faith for help in dealing with her breakup from fellow singer Justin Bieber.
On Sunday, Oct. 12, Gomez attended well-known pastor T.D. Jakes' church and later posted a photo of herself and Jakes on Instagram. She captioned the photo, "This morning @bishopjakes The Potters house. Unbelievable message. Had me in tears. Thank you Bishop for reminding me why I should always keep going."
Gomez and Bieber have had a tumultuous on-again, off-again relationship. Before the latest split, the couple was seen attending Bible study and church services together. However, one particular post led to speculation that Gomez was again single and doing her best to deal with her singleness.
"Sometimes we think we aren't good enough. But then I realize when I think I'm alone I have God," Gomez tweeted. "We have to learn the hard way sometimes."
She also posted photos of herself with Pastor Judah Smith of The City Church in Seattle. Gomez showed some of what she had been learning in her Bible study with verses from the Bible posted to her account.
"Whatever your task, put yourselves into it, as done for the Lord and not for your masters," she wrote, citing Colossians 3:23.
Gomez became famous for wearing a purity ring before dating Bieber, but appeared to have stopped wearing the jewelry with the insignia "True Love Waits," part of a pledge to remain abstinent before marriage. However, she recently thanked an organization for sending her more purity jewelry, leading to speculation that she will again be wearing it in public.
The singer has reportedly thrown herself into charity work, meeting with sick children and posting plenty of photos of herself in the hospital. Working with children is a passion for Gomez, and she has plenty of young fans eager to meet their role model. This could be a new, fresh start for Gomez.