Seth Meyers Makes Fun of Trump Evangelicals on Late Night Show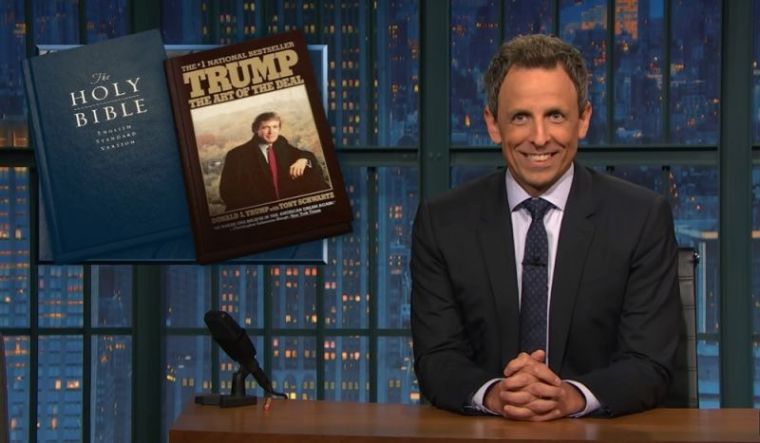 Late night talk show host Seth Meyers took nearly 10 minutes of his Tuesday program to make fun of President Donald Trump's reported spiritual life and outreach to evangelicals, joking that evangelical leaders were participating in an exorcism instead of praying for the president last month.
Meyers, a comedian who hosts the NBC program "Late Night with Seth Meyers," made Trump's faith life and relationships with evangelical pastors the focus "The Check In" segment of Tuesday night's show.
Meyers begins by contending that Trump has found out how hard it is to be president. He recalled that efforts to pass an Obamacare repeal have failed, the Russian investigation is ongoing, and infighting at the White House has led to staff changes.
"It's often in dark times like this that a man will turn to God," Meyers said, followed by clips of Trump stressing the importance of God in interviews or rallies. The program shows one clip of Trump saying in July that "In America, we don't worship government, we worship God."
"Oh, don't worry. Nobody is worshiping government. I didn't take three hours at the DMV because I pushed through throngs of worshipers. In fact, I heard the Lord's name taken in vain a lot," Meyers joked. "Admittedly, Trump did talk about God a lot during the campaign but what he had to say about God was a real mixed bag."
The program then showed various clips of Trump from the early days of his presidential campaign in 2015. One of the clips shown was from July 2015 when Trump questioned why he would need to repent and ask God for forgiveness if he has not made a mistake, a statement for which he received a lot of criticism from Christians at the time.
The program also showed other clips from Trump's campaign in which he lauded God and faith.
Meyers then pointed out that Trump has often shown his unfamiliarity with the Bible. Meyers cited the time Trump called 2 Corinthians "Two Corinthians" in a speech at Liberty University in January 2016.
"Two Corinthians? Like its a sequel to an action movie," Meyers joked. "Who can forget the famous line from '2 Fast 2 Corinthians' when Vin Diesel said to Jesus, 'Hey, long hair! Pop the clutch and let's ride!'"
Meyers then touched on Trump's lack of church attendance. Meyers suggested that given where Trump spends most of his Sundays, his common prayer is: "God, please don't let me hit it in the water."
Meyers added that Trump would hate church because it is an hour of people talking about someone other than himself.
"Is this whole thing going to be about Jesus?" Meyers said, impersonating Trump. "Did you know He had zero hotels. True story: on the day He was born, He could not get a hotel reservation."
Despite the questions surrounding Trump's personal faith and knowledge of the Bible, Meyers notes that Trump has taken steps to "please his evangelical base," pointing out that Trump signed an executive order promoting religious freedom and free speech in May.
The order, which takes takes the teeth out of a law banning churches and pastors from speaking out politically and calls for exemptions to Obamacare contraceptive mandates, was signed during a ceremony at the White House Rose Garden in front of a gathering of evangelical leaders and conservative Christians.
The program showed a clip of Trump's speech in the Rose Garden in which he calls out the Little Sisters of the Poor, an order of nuns who fought an Obamacare contraception mandate all the way to the Supreme Court. During the speech, Trump asked a representative of the nuns to the come to the stage. After that, Trump called on the lawyers who defended the Little Sisters to stand.
"Where are your lawyers?" Trump asked during his speech. "Stand up. Come on, stand up. Good job. Do you mind if I use your lawyers for various things? I could use some good lawyers too."
Meyers joked that only Trump would compliment nuns on their lawyers.
"God would have been very proud of how litigious you are," Meyers said, again impersonating Trump. "Such a weird sequencing too. Like, 'Give it up for the nuns but also the real heroes — the legal team.'"
After making fun of Trump's lawyer comment, Meyers focus shifted to Paula White, a Florida-based televangelist who is also referred to as Trump's spiritual advisor and pastor.
Meyers notes that White is considered by critics to be a prosperity gospel preacher. White was among a number of prosperity gospel-type preachers to be investigated by the United States Senate.
"White has often been criticized for telling followers that if they donate money to her ministry, they will be made wealthy by God," Meyers said. "In fact, reports say that 'Not surprisingly, Donald Trump is drawn to those preachers who say that one's wealth is a sign of God's approval.' Reports say that White has benefited handsomely from preaching that kind of Gospel."
The program also showed a clip from 2012 which shows Paula White using African-American idioms when speaking to a predominantly black crowd. That same clip showed White suggesting that it would be a woman's fault if her husband left her.
"It's hard to tell what is more offensive — the insinuation that it's your fault that your husband left you or the appropriation of black idiomatic speech?" Meyers asked.
Although Meyers notes that many evangelical leaders are "uncomfortable" with White, he states that hasn't stopped them from "basking in their access to the president."
"Who could forget this photo with religious leaders with their hands on Trump's back praying for him?" Meyers said as the program showed a photo of evangelical leaders laying their hands on Trump as they prayed over him in the Oval Office last month. "At least, I think they are praying for him. It could just as easily be an exorcism. 'I am the best demon. I have the highest ratings. Everyone says so!'"
Meyers also poked fun at the upcoming biography titled The Faith of Donald J. Trump: A Spiritual Biography, which will be co-authored by the Christian Broadcasting Network's David Brody.
"It will be the first book printed entirely on a Chiclet," Meyers quipped, as the program cut to a picture of a Chiclet with the message "He has none" written on it.
"Trump is surrounding himself with people that seem to prioritize wealth over faith while using his friends to convince others that he, himself is a man of deep faith," Meyers said.