Sgt. Bowe Bergdahl's Former Pastor Says Freed US Soldier Has 'Mental and Physical Toughness' to Persevere
American Soldier Freed After Being Held Captive Nearly 5 Years by Taliban in Exchange for Release of Gitmo Detainees
Sgt. Bowe Bergdahl's former pastor says the Army sergeant, who was freed over the weekend after being held captive nearly five years in Afghanistan, has the mental and physical grit to overcome the harrowing experience.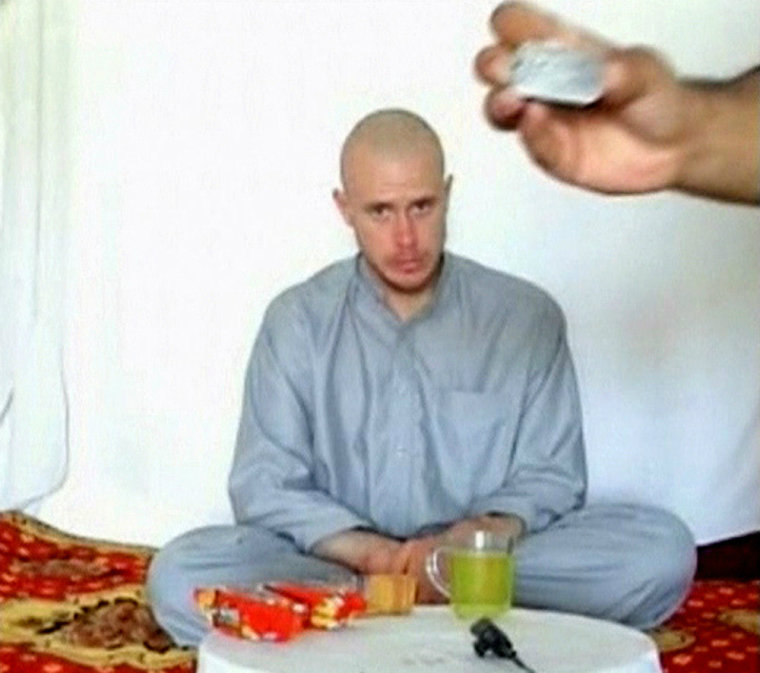 "If there's anybody I can think of pulling through this, and doing well, it's Bowe. He has the mental and physical stamina not to be crushed by this experience," Philip Proctor told USA Today. Proctor was pastor of Sovereign Redeemer Presbyterian church in Boise, Idaho, where Bergdahl attended as a teen.
Bergdahl, 28, was released on Saturday after being held by Taliban militants since June 30, 2009. The Idaho native, who was the last known remaining United States military hostage in Afghanistan, was freed in exchange for the release of five Afghan detainees that were being held by the U.S. government in Guantanamo Bay, Cuba. Among the detainees released were top commanders and the former head of the Taliban's army, according to The Washington Post. The freed detainees were sent to Qatar, which helped to broker the deal.
Bergdahl was secured by U.S. forces in eastern Afghanistan along the border with Pakistan. After being placed in the custody of Special Operations forces aboard an aircraft, the soldier reportedly broke down upon being told by one of the troops, "We've been looking for you for a long time."
News of Bergdahl's released was celebrated by President Barack Obama on Saturday, who was accompanied by the soldier's parents, Bob and Jani Bergdahl, as he spoke in the Rose Garden at the White House.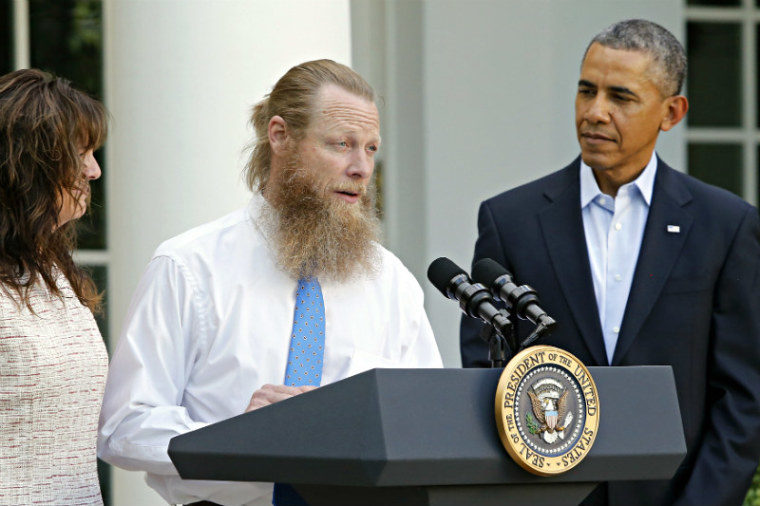 "His parents thought about him and prayed for him every single day, as did his sister, Sky, who prayed for his safe return," said Obama. "He wasn't forgotten by his community in Idaho, or the military, which rallied to support the Bergdahls through thick and thin. And he wasn't forgotten by his country, because the United States of America does not ever leave our men and women in uniform behind."
Bob Bergdahl, who said he had learned that his son was having difficulty speaking English, gave him a special message in Pashto, one of the two main languages spoken in Afghanistan and used by the Taliban.
"I am your father, Bowe," he said. He preceded the personal message by first saying in Arabic, "In the name of God, the most gracious, the most merciful" — reportedly a common phrase said by Muslims before giving a speech.
"I look forward to continuing the recovery of our son which will be a considerable task for our family," Bob Bergdahl added.
Sgt. Bergdahl was hospitalized at Landstuhl Regional Medical Center in Germany, according to a CNN report that cites an unnamed U.S. Defense Department official. It was reportedly concern for Bergdahl's declining health that prompted U.S. officials to increase their years-long efforts in securing his release.
"It was our judgment that if we could find an opening and move very quickly with that opening, that we needed to get him out of there essentially to save his life. I know President Obama feels very strongly about that, I do as well," said Defense Secretary Chuck Hagel.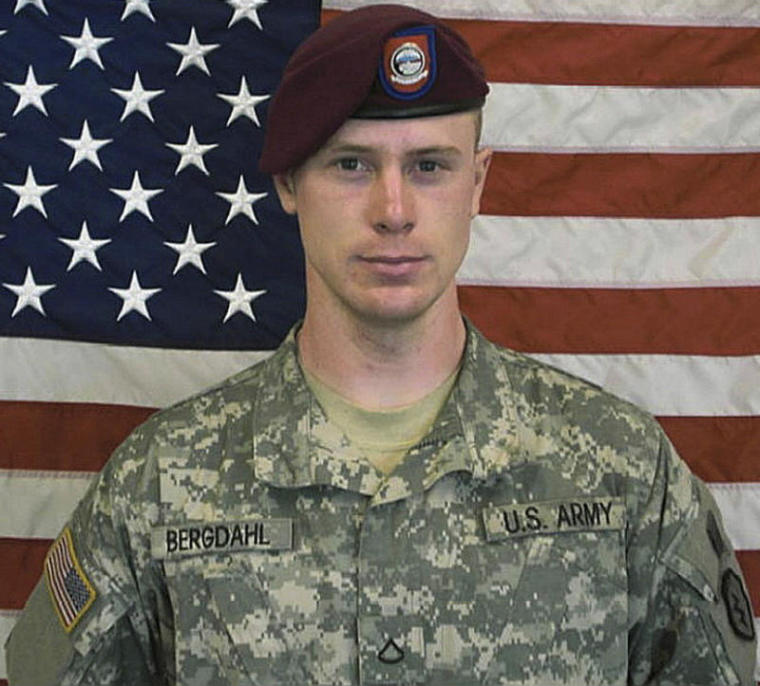 Questions remain as to how the young soldier managed to be captured, with speculation centering on whether he had deserted his company and went AWOL. Bergdahl, deployed to Afghanistan in May 2009, was captured by insurgents on June 30, 2009, the day he walked off his outpost in eastern Afghanistan.
It was unclear when the soldier, who was promoted in absentia by the Army twice (from private to specialist, to sergeant), would be transferred to a medical facility in the U.S. and when his family might meet with him.
Bergdahl was raised in a conservative Christian home, but went on to explore other faiths, such as Buddhism, which his former pastor attributed to an "exploratory phase in his life."
"He'd grown up in a conservative Christian home and he was trying to figure out if this was his faith or his parents' faith," said Proctor.
Bergdahl's parents are members of Presbyterian Church of the Big Wood in Ketchum, Idaho.
Over the weekend, Presbyterian Church of the Big Wood held a special service for the Bergdahls, handing out yellow ribbons, which are sometimes used to symbolize support for U.S. military members. Calls made on Monday to Presbyterian Church of the Big Wood went unanswered.
Online:
Defense Secretary Chuck Hagel Announces Release of Army Sgt. Bowe Bergdahl by Afghan Captors
President Obama's Statement on the Release of Sgt. Bowe Bergdahl